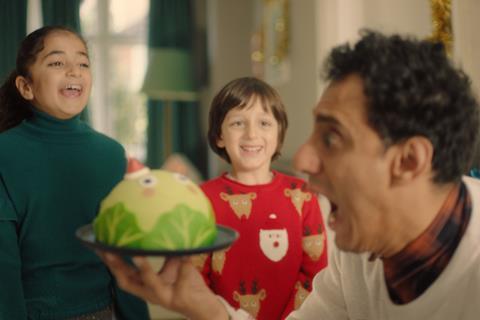 Asda has launched its Christmas advertising campaign, with a heady mix of EDLP messaging and Stevie Wonder.
Centred around giving customers 'the Christmas they need, at the prices they want', the campaign had its first airing last night showcasing Asda superfan Sunny and his family as they prepare for the big day.
Sunny previously featured in Asda's price relaunch and Halloween ads, with his latest appearance set to the tune of Wonder's 1967 track That's What Christmas Means to Me.
The ad aims to get across the message that customers can still make the most of the season even if they're spending more time at home, in smaller parties.
It features items from Asda's festive range including its Bruce the Brussels Sprout Cake, the Extra Special Vegan Bao Bun Selection, and a classic turkey.
"At Asda, we know how important Christmas is for our customers, this year more than ever," said Asda's chief customer officer Anna-Maree Shaw. "Christmas is going to be a little different for everyone, but through our 'Asda Price Christmas' campaign, we want to reassure customers that everyone can have an extra special Christmas at the prices they want, which is why we're keeping prices magically low. With great quality products at great value across food, drink and home, customers can make the most of the festivities without having to compromise."