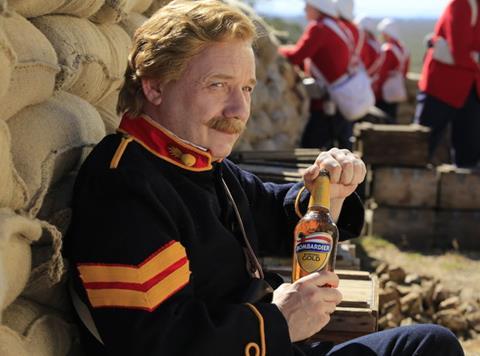 Comedian Bob Mortimer will take over from the late Rik Mayall as the star of Bombardier's marketing campaign, brewer Charles Wells has announced.
The ex-Shooting Stars host, and central character of surreal BBC sitcom House of Fools, will depict a new version of the Bombardier Bedford character in a TV ad that launches on 23 April – St George's Day. The character was previously played by Mayall, who died last June.
"Bob Mortimer enters the fray as Bombardier Bedford following the sad loss of his predecessor and makes an instant impression," said Phil Toms, director of brands for Charles Wells.
"I'm thrilled that, in Bob, we have one of the country's most original comedy talents bringing his own unique comedy to the character and we believe he'll have a great connection with licensees and drinkers as he leads the charge for a quality pint of Bombardier."
"Our mission is to connect with drinkers through the Bombardier regiment of beers, of which there are now two variants," said marketing manager Emily Hudson. The campaign focuses on Bombardier Burning Gold, a 4.7% abv golden ale that was launched in 2007.
Bombardier retail sales fell 16.3% last year to £6.7m [Nielsen 52 w/e 11 October 2014].