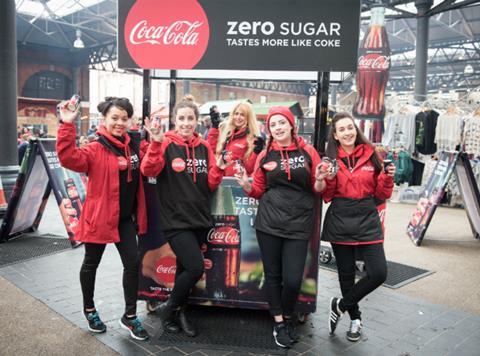 Coca-Cola European Partners has launched its largest-ever nationwide sampling campaign, promoting Coca-Cola Zero Sugar.
The summer-long push will see more than five million miniature cans handed out in offices, rail stations, Tube stations and shopping centres across Great Britain – with vouchers for a free bottle also distributed.
The activity follows a £14.5m investment to mark the June 2016 launch of Coca-Cola Zero Sugar, the multimillion-pound replacement for the struggling Coke Zero.
The new variant had become "a driving force in the cola category" said Simon Harrison, GB operational marketing director at CCEP. "We are winning consumer preference, and the brand is growing share as a result. Our strategy to encourage more consumers to trial our great-tasting zero sugar variant is building a loyal fan base."