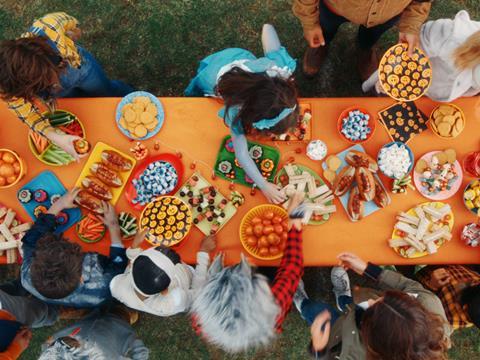 Co-op has given young footballers from Bookham Colts Football Club a starring role in its latest Halloween advert.
The commercial, which debuts tonight during the ad break of ITV's The Chase [17 October] and will have slots in the breaks of shows including the Great British Bake Off Final, X Factor, Googlebox and Coronation Street, showcases locals coming together for a children's football match.
Filmed in the grounds of the Effingham Village Recreational Trust - a beneficiary of the society's Community Fund – the clip's opening scene centres on a group of parents discussing tactics in the dressing room using Co-op's Halloween food range to demonstrate the 'diamond formation'.
Footage then flips to the young 'monster' football players storming the pitch for their match and enjoying a Co-op Halloween party spread after the game.
One per cent of Co-op members' spend on Co-op branded products and services is given to the Community Fund, enabling members to support locally-focussed causes that boost the wellbeing of their communities, the society said.
"Halloween is one of the biggest community events of the year and our TV campaign shows our food feeding the joyful moments in community life and bringing people together," explained Ali Jones, Co-op customer director.
"Community isn't just about giving back money, it's about understanding what communities need and helping our members get actively involved to make them stronger."
Robin Gadsby, CEO at Forever Beta, which created the ad said: "Our most recent film for the Co-op combines bone-chilling zombies with a heart-warming message – that the great Co-op food we all enjoy also helps to benefit the community."