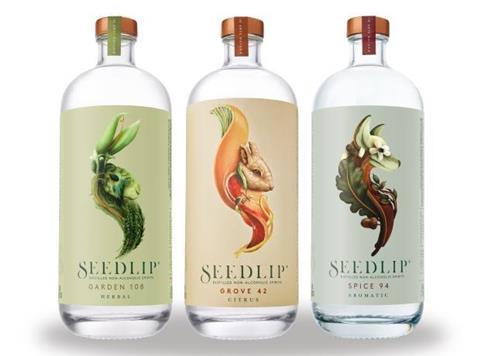 Diageo looks to be gearing up to launch a new marketing drive for the Seedlip brand, having applied to register a duo of trademarks covering non-alcoholic beverages.
The London-listed spirits giant has made applications with the Intellectual Property Office on behalf of Seedlip Ltd, the company it acquired a majority stake in from Ben Branson in 2019.
The applications fall under trademark class 32 covering non-alcoholic beverages, waters and flavoured waters. They were made on 16 August and published today (1 September).
The names trademarked are "Don't Mind If I Don't" and "Drink Interesting".
No further details about what the campaign could consist of were forthcoming. When contacted by The Grocer, Diageo declined to comment.
Presently, Seedlip's range of non-alcoholic drinks comprises Seedlip Garden 108, Seedlip Grove 42 and Seedlip Spice 94.
The distilled non-alcoholic spirits are also available in 250ml ready-to-drink cans mixed with tonic.
Promoting low-alcohol and responsible drinking forms a key part of Diageo's 'Society 2030: Spirit of Progress' targets. The Johnnie Walker brand owner has made expanding its range of non-alcoholic products a key priority in recent years.
The company now offers 0.0% variants of its Gordon's and Tanqueray gin brands, as well as Guinness 0.0%, an alcohol-free version of the stout of the same name.
Earlier this week, it added Captain Morgan Spiced Gold 0.0% – a zero-alcohol version of the rum brand – to its roster.
It has also partnered with Waitrose to grow the amount of space dedicated to alcohol-free in its supermarkets.