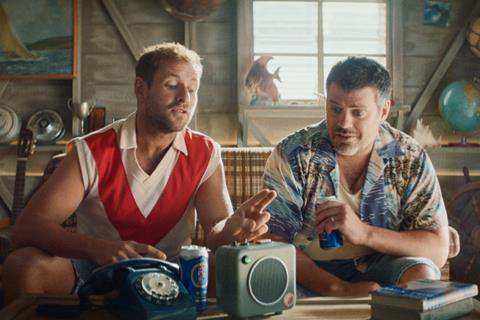 Foster's has mounted a £6m advertising push poking fun at 'fancy pants' beer drinkers.
The Heineken UK brand has brought back Australian duo 'Brad & Dan' from its past campaigns for the first TV spot of the new campaign.
In the ad, they advise 'Harry from Abergavenny' to serve his hipster brother-in-law Foster's masquerading as a craft beer by pouring it into an old jam jar and "calling it something obscure".
It first aired on 6 April and will feature on video on demand, social media and radio.
Heineken said the push was estimated to reach over 20 million people, and 96% of all 18 to 56-year-olds.
Foster's had "a legacy of making great advertising that engages people emotionally", said brand director Nic Casby. "We wanted to bring back this 'no worries' brand essence and encourage people to see the pint glass half-full with a dose of Aussie positivity".
It comes as Foster's has struggled to compete against insurgent craft brewers and premium world lagers over past years: it lost £16m in value sales in 2018, the largest decline of any lager brand in The Grocer's most recent Top Products report [Nielsen 52 w/e 8 September 2018].