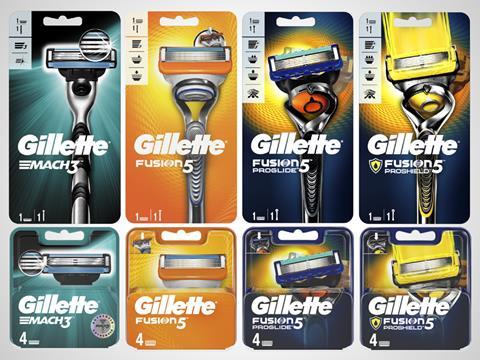 Gillette has moved to recover a £6.5m sales loss with its biggest packaging overhaul in more than 10 years.
A new look is rolling out now across all products in the number one shaving brand's portfolio. They had been given a "contemporary" design to simplify the range and give it "a more uniformed look" said brand owner Procter & Gamble. Front-of-pack messaging aims to make it easier for shoppers to understand each product's benefits, while the contents are more visible.
The revamp follows the recent launch of the upgraded Gillette Fusion5 razor and the debut of the Sensor3 Cool, which claims to be the first disposable razor for men with "proprietary cooling technology".
Gillette had "innovated across every part of our portfolio" said Matt Thomas, shave care brand manager at P&G. "No matter a shopper's budget, we have a Gillette quality shave to meet their needs."
Value sales in the shaving category slumped last year, with Gillette and its leading rivals, Wilkinson and Bic, hit by factors such as the fashion for shaving less often and increased completion from smaller, more fashionable brands. Gillette razors & blades sales fell 1.8% (£4.4m) to £248.4m, while its shaving preparations plunged 6.5% (£2.1m) to £30.2m [Nielsen 52 w/e 9 September 2017].