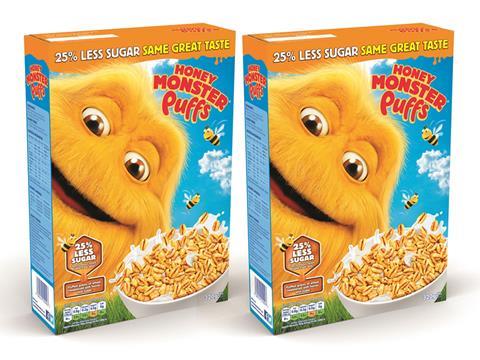 Honey Monster Puffs will no longer be made and marketed by Raisio as of July, with the manufacturing, marketing and distribution of the brand being handled by The Brecks Company instead.
Raisio is licensing Honey Monster as it seeks to focus on its core business activities. "Ready-to-eat breakfast cereals are not at the core of Raisio's agreed strategy," said Ton Christiaanse, MD for snacks and cereals in the UK. "The licensing of the Honey Monster brand provides a positive solution that will allow the business to strengthen its focus on the healthy snacks market."
Honey Monster has to date been made and marketed by Raisio's UK division, Halo Foods. However, Raisio announced in December it was closing its cereal factory in West London; production at the site ceased last month.
North Yorkshire-based Brecks makes a range of cereal and confectionery products. Its founder and MD, James Hirst, said the company was delighted to add the Honey Monster brand to its portfolio. "Brecks has strong business-to-business experience and we're looking forward to taking the beloved Honey Monster brand on to the next level."
Like many breakfast cereal brands, Honey Monster has faced growing scrutiny as a result of the war on sugar. In October 2014, the brand – previously known as Sugar Puffs – was rebranded as Honey Monster Puffs and reformulated following several years of declining sales. In January this year, Raisio/Halo announced a further 25% sugar cut to the Honey Monster Puffs recipe, bringing it down to 6.6g of sugar per 30g serving – less than half the sugar once contained in Sugar Puffs.