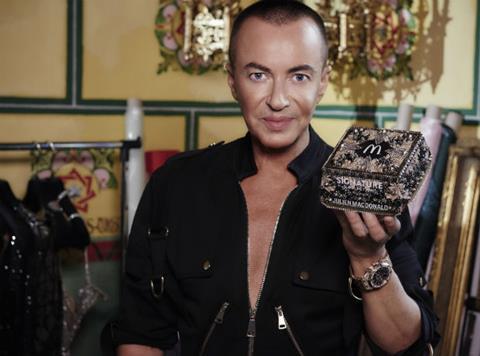 McDonald's UK is collaborating with fashion designer Julien Macdonald to reinvent some of its The Signature Collection packaging.

The new-look luxe burger box will have crystal-style detailing and bespoke digital print as well as the distinctive McDonald's Golden Arches.

The novel design will be unveiled at a special premiere at its flagship restaurant in Leicester Square. It signals the start of a limited run of 1,000 boxes only available at its showcase events.

Julian Macdonald is best known for providing decorative styles and red carpet gowns to A-listers.

"I drew inspiration from my fashion creations and iconic embellished red carpet dresses. This was translated into a gold baroque crystal-encrusted box, which is the perfect packaging for the luxury McDonald's Signature Collection burger," said Macdonald.

One special box personally embellished by the designer will be auctioned off, with the proceeds going to the Ronald McDonald House Charities (RMHC).

McDonald's vice president of marketing

Emily Somers added: "This is our first ever UK packaging collaboration, it's a brave and exciting move and it's like nothing we've ever done before."

"To partner with such an iconic designer as Julien Macdonald is fantastic, and his beautifully designed star-studded box complements The Signature Collection perfectly. Julien's limited-edition box is a great way to mark our nationwide launch of The Signature Collection."

The gourmet range of burgers was initially trialled in 2015 and will be rolled out across 900 of its restaurants by the end of the year.

This follows McDonald's launch of a new co-branded organic milk bottle for its Happy Meals in partnership with Arla earlier this month.