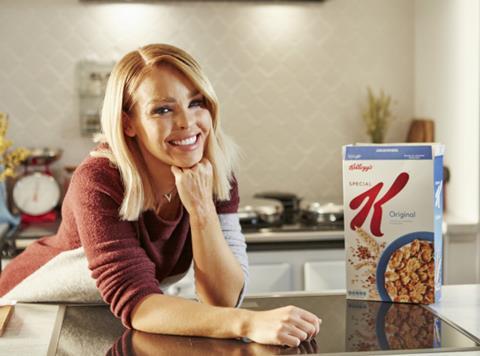 Kellogg's is spending £3m on a digital campaign for Special K to reshape perceptions of the cereal brand – and claw back a £28.1m drop in value.
The supplier has teamed up with presenter and ex-model Katie Piper to "bust myths" about Special K, addressing criticism on social media that has seen the brand called "tasteless" and "unhealthy".
In an effort to address concerns about nutrition, taste and image of the brand, Piper invites the public to separate "the iconic red swimsuit" and diet challenges of the 1990s from the product sold today, highlighting its credentials.
The online push follows a commitment from Kellogg's to improve and adapt its food, and looks to challenge the view that Special K contains high volumes of sugar, showing it is one teaspoon per 30g serving – with the original variant also being "rich in nine vitamins and minerals including vitamin D, iron and zinc".
Video and advertorial content will run across Hearst media titles, as well as Special K channels including Facebook, Twitter and Instagram. The Hearst partnership kicked off this month with a Woman's Health social takeover, and will run until September.
Special K – currently down 22.8% in value sales to £95.1m [Nielsen 52 w/e 31 December 2016] – was for years associated with "the-two week diet challenge to fit in to your bikini", said the cereal's brand manager Emma Birks. But shoppers had moved on to "nourishing their body through a healthy lifestyle".
She added: "We're tackling challenges around being 'just diet food', sugar and the goodness of the cereal, so that the key barriers to purchase are removed and women are reminded how nutritious and delicious Special K is."