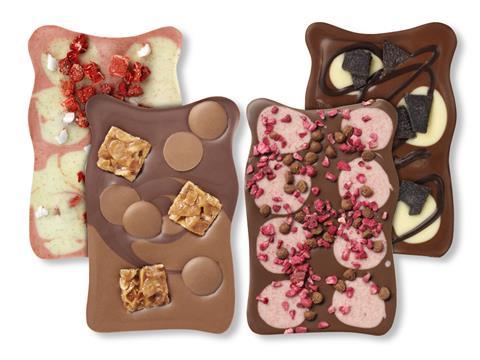 The resolution of the conflict between Hotel Chocolat and Waitrose over alleged copying of chocolate slabs came surprisingly fast. Not only was it quick, but Hotel Chocolat seems to have achieved all it desired, with Waitrose agreeing "to stop making the totally coincidentally very similar bars".
So does this mark a change in the tide on dealing with the copying of familiar brands so prevalent in some parts of UK grocery and are there lessons here for brand owners when faced with plagiarism?
Unusually, this spat was played out in the media rather than over the negotiating table or in the courts. Most brand owners would shy away from such an approach, due to the unpredictability of media reporting and the fear that the story would become all about price and not about the originality, quality or provenance of the original.
Hotel Chocolat has played a deft hand. Firstly, it clearly understands the importance of effective brand protection. It had the forethought to register the shape of its chocolate bars as designs, which gave it some protection and some basis to claim the moral high ground. A single registered design, however, has its limitations.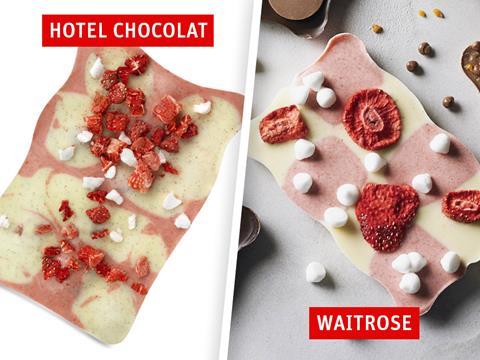 The second, and perhaps most important, card it held was its brand. Hotel Chocolat is a niche business, commands a loyal and dedicated following, and is seen as entrepreneurial, innovative and successful. We value what it stands for, whether or not we are customers.
The Waitrose brand also played its part. Waitrose takes pride in its fair approach and the very idea it would rip off others' ideas, inadvertently or not, would unquestionably be reputation and brand damaging. It also could not claim comfortably to be a consumer champion. Many Waitrose shoppers will also be Hotel Chocolat customers, so could it be confident that its shoppers would value its version over the authentic original? Price alone is unlikely to be the decisive factor for this demographic.
Although Hotel Chocolat products are sold in John Lewis, this did not hold Hotel Chocolat back from running a bold PR campaign. Its chocolate "amnesty" was a masterstroke. Offering to replace every unopened or unfinished £2 Waitrose slab with one of its own (rrp: £3.95) demonstrated absolute confidence in the product quality of Hotel Chocolat and showed this was not about the money.
Are there lessons here for other brand owners? Potentially, for a few. If you have a niche or small product with a strong story and a loyal following, and you are copied by someone either significantly larger than you or whose behaviour is at odds with its brand, then public opinion may judge in your favour. It certainly helps if you can bring a personal dimension, as Hotel Chocolat did with its founder, Angus Thirlwell, speaking out. It is so much more persuasive than an organisation's impersonal "spokesman".
The unpredictability of public opinion, however, makes it an unattractive option in most cases, though legal action is never attractive either. The preferred option must always be an amicable negotiated settlement, but that is where brand owners in the UK are not well-served by the laws of the land or their enforcers.
A settlement requires motivation on both sides. In this country, brand owners' rights against parasitic copies are often too weak for a threat of litigation to be credible, perhaps explaining why Hotel Chocolat chose the court of public opinion over a court of law. Meanwhile consumer protection regulations could be more persuasive but go unenforced by Trading Standards due to their limited – and declining – resources.
Now, were brand owners able to call on their IP rights and consumer protection regulations – for indeed consumers in large numbers are regularly conned by these copies – then a negotiated, amicable settlement would have a real chance of success.
John Noble is director of British Brands Group