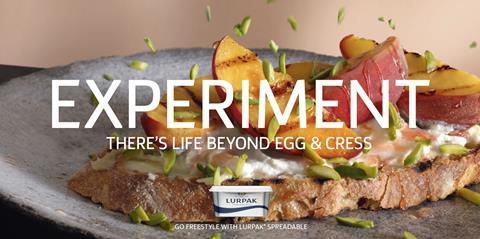 Arla Foods is launching a £7m advertising campaign designed to encourage consumers to be more imaginative when using Lurpak Spreadable butter.
The 'Go Freestyle' campaign starts on 19 April and calls on consumers to "re-evaluate their food choices and have some fun with them," said Arla Foods senior brand manager Thryth Jarvis.
A pulled chicken waffle burger, and a fig, manchego and honey crostini are among the sandwich ideas touted by the campaign, which celebrated "the art of freestyling in the kitchen", added Jarvis. "That means no recipe, no plan, and no carefully measured ingredients."
Advertising activity starts this weekend with a 30 second spot during Britain's Got Talent which is voiced by Blade Runner star Rutger Hauer, and depicts cooks throwing unusual dishes together to a jazz soundtrack.
It "captured the rhythmic chaos of freestyling in the kitchen" by taking viewers on a journey of "flavour experimentation", claimed Arla.
Additional TV, outdoor and digital activity will follow over the coming weeks, supported by in-store promotional activity.
"The campaign is unlike anything we've done before. It's all about freedom and adopting a freestyle attitude," said Jarvis. "It tested exceptionally well at research stage and looks set to help drive re-evaluation and category growth by encouraging existing and new buyers to see anything other than Lurpak as a compromise."
A Lurpak Freestyle Food Van will be also be offering shoppers the chance to adopt the 'Go Freestyle' mantra with their lunch options and share them on digital media where the brand will be promoting #FreestyleFood during 'Freestyle Food Month'.