The increasingly sophisticated world of online gaming and its ever-growing popularity is giving fmcg brands new advertising opportunities. So how are they getting gamers on board?
Imagine you're playing Call of Duty: Warzone. Your avatar is rampaging through the fictional eastern European city of Verdansk – and on the side of a building is an ad for your local supermarket. Or maybe you take a moment in the midst of a Fortnite mission to order real-life M&M's from a virtual store. Perhaps a non-player character (NPC) in Grand Theft Auto offers you a Coke.
This movie-style product placement in video games, sometimes known as custom integration, is still in its infancy – but could become commonplace in the near future. NPCs will soon be holding coffee cups bearing Starbucks or Costa logos, suggests Omar Bakr, account director at advertising technology platform Venatus. One day, NPCs might even be branded characters. "You could interact with Coco from Coco Pops, for example."
The opportunity for brands is obvious. So how are fmcg brands capitalising on an increasingly innovative gaming market, estimated to be worth as much as $180bn (£132bn)? And what are the most cutting-edge options available right now, as lockdown boredom drives more people into fantasy worlds?
Gaming sponsorship and advertising is, in itself, nothing new. PepsiCo brands Doritos and Mountain Dew, for example, have been partners of Xbox for at least 15 years. More recently, Coca-Cola became the official non-alcoholic beverage of all Overwatch properties, while Kellogg's extended its partnership with Major League Soccer's esports venture.
"You could interact with Coco from Coco Pops"
But interest in gaming ads has stepped up a notch during the pandemic. Looking at the numbers, it's clear to see why. Within four weeks of the first UK lockdown on 23 March, the number of users logged into gaming platform Steam rose from 16 million to 24 million, according to figures from the University of Hull. It took just one month for Warzone to reach 50 million players following its March launch – while the PlayStation 5 console sold 4.5 million units globally within seven weeks of its November debut.
So brands are increasingly keen to go beyond traditional activity such as sponsoring esports events or running pop-up ads. Instead, they're looking to appear organically in gaming worlds.
Take Hellmann's. In December, it launched its own island within Nintendo's Animal Crossing: New Horizons, where players could drop off spoiled turnips. For each one handed in, Hellmann's owner Unilever donated the equivalent of two meals to FareShare.
"The gaming world has enabled Hellmann's to engage with a whole new audience," says senior marketing manager, Rachel Chambers. "We loved being part of such a widely popular game. Animal Crossing not only offers entertainment but, through Hellmann's, it also educated players on how to tackle food waste with real nutritious meals."
And, despite Chambers insisting the Hellmann's creative was about "so much more than brand awareness", it did that too. New Horizons shifted more than 26 million copies worldwide in the six months since it launched in March 2020, making it the second most popular game ever on Nintendo Switch.
Case study
Jack Link's and esports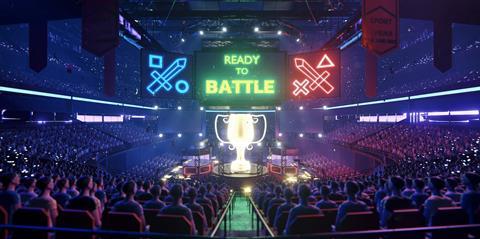 Gaming is no longer the sole dominion of sugary energy drinks and salty snacks. Meat snack maker Jack Link's is looking to tempt hungry gamers by getting stuck into esports. This basically involves contenders, often professionals, playing video games competitively in front of a massive crowd. The concept may sound niche, but it's far from it. There are an estimated 500 million esports fans around the globe.
No wonder Jack Link's announced in January it had made "a seven-figure move into the online gaming arena". It wants to become "the primary protein snack for gamers", so it's teamed up with global esports entertainment brand Fnatic. Together they will develop "content, in-game activations, online and physical tools as well as story-telling from the pros". Later this year, Jack Link's will sponsor leading esports tournaments and events in Europe – which will be held either live or online, depending on the pandemic situation.
Custom integration
This illustrates the custom integration route, which is just one method gaining ground in the gaming world. Many other brands are choosing to run native, or blended, ads – ones that imitate real-life media while maintaining a seamless gaming experience.
These are a "very, very potent" marketing tool, says Jeremy Taylor, VP EMEA at in-game advertising startup Anzu.io. It has helped place Estrella ads in Gravity Rider, McDonald's in Final Kick, and 7Eleven's Slurpee drink in Mad Skills Motocross.
The ads Anzu.io typically create appear as billboards, posters and digital OOH signage. "There are a lot of advantages to that," Taylor explains. "They're not disruptive and in many ways enhance the environment."
And they are a familiar format, Taylor points out. "If you've ever played Fifa, you'll have seen ads along the side of the pitch. But those ads were hard-coded. Once they're in, they can't be changed – and you can't harvest any data." Anzu.io's aim is to offer the benefits of traditional digital ads, including programmatic capabilities and data collection.
That means the ads can be changed in a matter of days to target specific audiences. "We can target gamers based on age, demographic, gender, location – even what devices and platforms they're using. We can be hyper-targeted," says Taylor. Technically, Anzu.io could even run a campaign meant for people in a specific postcode – to promote, say, the local Tesco Extra. "That's not something we necessarily recommend because the more targeted you become, the smaller your audience gets. So, it's about finding that balance between scale and reaching the right people."
It's also about ensuring the ads are actually visible, of course. To record which ads are seen amid often fast-paced action, Anzu.io's team in Tel Aviv designed what Taylor describes as "the world's first 3D ad-tracking technology". It allows the company to know which ads have been seen, by how many people, for how long and even from what angles. The tech even knows if an ad has been obscured by anything in the game.
This helps Anzu.io set its fees. The company charges on a standard cost per thousand impressions basis (also known as cost per mille). To count as an impression for Anzu.io, an ad must be "more than 50% viewable for more than three seconds" Taylor says.
Blended advertising is also big business for Venatus, which uses the technique in the Angry Birds games. They are "becoming bigger and bigger" says Bakr. "But you won't find them in all games."
So another popular option is playable ads – mini games lasting no longer than 30 seconds, which incorporate elements of a brand and its products. Venatus recently created such an ad for a well-known noodle brand, which will invite players to catch falling ingredients. "It's a really great way to target people in a fun and interactive way," Bakr adds.
The fun can only get more sophisticated, he predicts, suggesting it won't be too long before branded NPCs are giving players quests to complete. "A lot of brands would probably love to do that."
Anzu.io's Taylor forecasts an even more elaborate future. Online worlds like Fortnite and Warzone "are called metaverses, because they're technically infinite – and they're not necessarily about playing a game, they're about socialising", he says. "Millions of people congregate in these virtual worlds."
In-game buying
As such, brands are cashing in – such as when Nike was part of rapper Travis Scott's virtual concert on Fortnite in September, seen live by 12.3 million people. "When marketing would once react to culture, it's now creating culture," Taylor says. "It's a powerful thing."
The opportunities for a big name such as Nike are infinite. Soon players could be not just buying gear for their avatars, but also themselves. "You could buy a pair of Nike trainers for your character and have a real-life pair delivered to your door." Nike could be one of many brands to open stores within metaverses – "where you can walk in and buy anything you want. It's going to happen sooner rather than later," he believes.
There are also clear opportunities for fmcg brands as gaming becomes just one element of an interactive virtual world. "We are going to go shopping in virtual supermarkets," Taylor forecasts.
"When marketing would once react to culture, it's now creating culture"
Still, ads don't have to be this sophisticated to cut through. The more traditional forms of gaming ads remain powerful. "There's a whole variety of ways fmcg brands can get involved in gaming," Bakr stresses. At its most basic level, that can involve advertising on sites offering gaming trailers, reviews and playing tips.
Then there's the "absolutely massive" world of app games, he adds. It includes the 957,390 games offered by Apple alone in 2020. In this world, you don't necessarily have to be clever, but you do have to avoid one big faux-pas: "disrupting the game".
To that end, Venatus largely eschews distracting banner ads in favour of video ads. These include ones the gamer can choose to watch in return for a reward, such as coins to spend in-game. "People react very well to being asked to see an ad," Bakr says.
Of course, there is another key consideration to note when deciding on the right format and game: demographics. Contrary to stereotypes, the gaming community isn't confined to teenage boys. The number of female gamers grew by 19% in 2019, according to a Google report. In the same year, gaming industry campaign group Must Play May found 42% of Brits aged between 55 and 64 had played video games in the past five years.
So it's vital to look at the preferences of each distinct demographic. "It's important to not treat gamers as one amorphous group," insists a spokeswoman for Red Bull, which has marketed itself through gaming for around 10 years. "First-person shooter franchises such as Call of Duty and Overwatch, for example, offer a different demographic to multiplayer online battle arena titles such as League of Legends 2, which offer a completely different demographic still to titles such as Fifa."
So essentially, gaming ads need to be as carefully executed as any other form of creative. But regardless of how you do it, one thing is for sure: it's all to play for.
Let's play: the fmcg brands getting into gaming
It's hard to imagine fmcg brands wanting to adorn firearms in the real world, but the gaming space upends many of the traditions of IRL ("in real life") marketing. As the below examples illustrate, there are dozens of ways to get involved – from on-pack promos and sponsoring esports tournaments and players, to creating games from scratch. And the world of gaming holds appeal beyond food and drink brands: yes, contrary to some stereotypes, gamers do pay attention to personal care.
Batchelors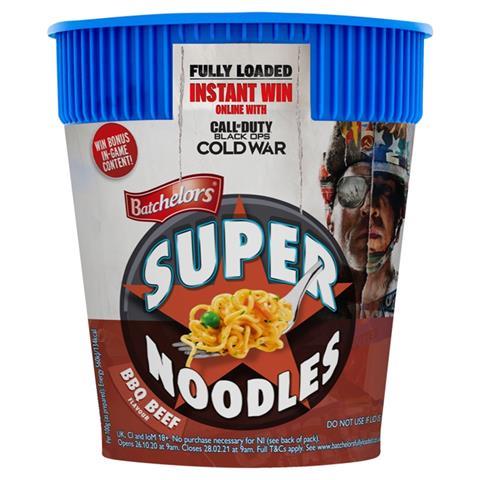 Call of Duty: Black Ops Cold War launched on 13 November 2020. It's the 17th instalment of the war-based CoD series, in which gamers undertake missions from a first-person perspective. Premier Foods has marked the occasion by rolling out promotional packs of Batchelors Super Noodles and Batchelors Pasta 'n' Sauce. Shoppers have the chance until April to win prizes ranging from a PlayStation 5 console to in-game items such as a charm to attach to a firearm.
Pringles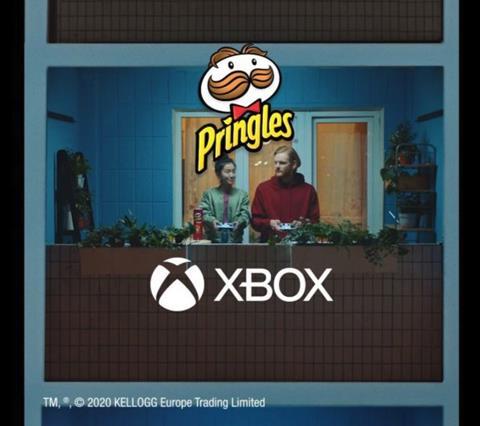 "Gaming is found to be our adult shoppers' most popular activity, so it made sense for us to explore targeting the gaming community," says Pringles activation brand manager Florence Kayll. Hence the snack's ongoing sponsorship of the League of Legends European Championship, in which teams of pro gamers compete in an online battle arena. Pringles also recently launched limited variants in a tie-up with Xbox and its Halo series of games.
Red Bull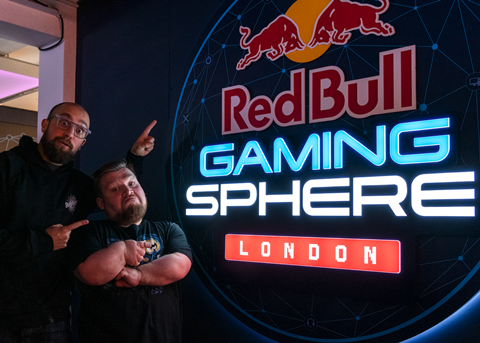 In March 2018, Red Bull opened a dedicated esports venue, the Red Bull Gaming Sphere in Shoreditch, to host tournaments and workshops. The brand also has venues in Tokyo and Stockholm, as part of its sizeable presence in gaming. It has dozens of esports pros on its sponsorship roster, including Richard Tyler Blevins aka Ninja and leading teams such as G2 and OG. Red Bull has also developed wholly owned mobile games such as the Bike Unchained series.
Monster Energy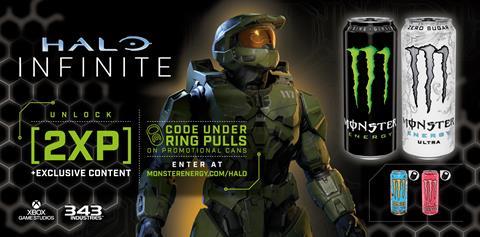 The Monster Energy brand has "successfully leveraged synergies with the gaming industry" for the past two decades, says Simon Harrison, VP of commercial development at CCEP GB. It is currently running an on-pack push for the hotly anticipated Halo Infinite, which was originally scheduled for release in November 2020. However, the sci-fi game – part of a franchise that has sold 79 million units – has now been delayed until autumn 2021.
Head & Shoulders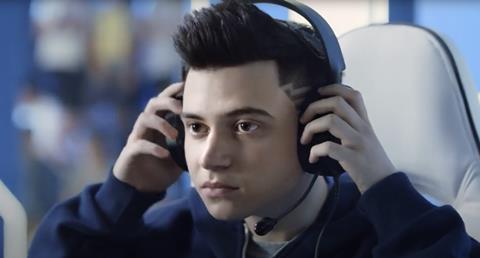 It's not just food and drink brands with an eye for the multibillion-pound gaming industry. Head & Shoulders – which has long been associated with traditional sport – made its esports debut in September 2018 by bagging pro Dota 2 player Roman 'RAMZES666' Kushnarev (pictured) as brand ambassador. The P&G brand has since cast its net wider, signing a sponsorship deal in June 2020 with G2 Arctic, the academy esports team of the Berlin-based G2.

Daniel Selwood is The Grocer's special projects editor, managing Britain's Biggest Brands, Britain's Biggest Alcohol Brands, The Dairymen and Top Products – as well as contributing to news, features, analyses and category reports.

He joined the magazine in January 2016 as food & drink editor, having been at financial & legal publisher LexisNexis for eight years.

He began his journalism career in the mid-1990s at a general interest magazine in his birth city, Sheffield.

Follow Daniel on Twitter: @danielmcselwood