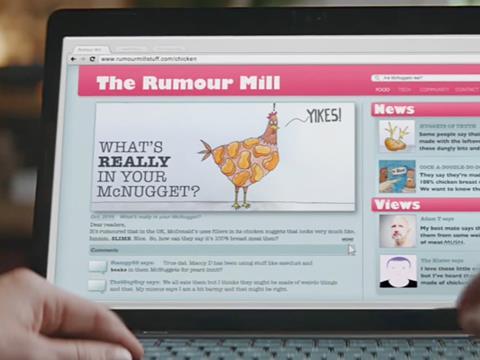 McDonald's spent more on advertising than any other food and drink brand in 2016, according to the The Grocer's annual Advertising Report.

The fast food giant splashed out £85.4m on traditional ad channels, according to Ebiquity, increasing its budget 26.3% across TV, radio, outdoor and print.
Click or tap on the link to read our full report
The increase pushes the US chain up from third place last year to top spot, beating the two biggest spending grocers, Lidl (2) and Aldi (4). Accounting for 4.6% of the total spend on traditional ads by retailers, it's nearly twice the amount of money Tesco (9) forks out, and more than three times that of Iceland (19).

"Our advertising tracking gives us the confidence that marketing investment works," said a McDonald's spokeswoman. "Strong campaigns such as our Good to Know work, which includes messaging around improving the Happy Meal and the new McCafé campaign, have been key in improving brand metrics and driving strong sales, ultimately resulting in strong market share growth."

It comes in the same week in which unhealthy food was firmly back on the agenda, as MPs called on the government to rethink a "vague" Childhood Obesity Plan by introducing tougher regulation, and school headteachers highlighted the inadequacy of school lunchboxes, with some containing nothing other than cold McDonald's Happy Meals. This week Public Health England also confirmed the difficulties it has faced in getting full engagement in its sugar reduction plans from the out-of-home sector as a whole.

But news that McDonald's has only increased its advertising budget in light of such concerns "doesn't really surprise" Malcolm Clark, co-ordinator of the Children's Food Campaign. "I don't see McDonald's advertising as a big 'up yours' to health concerns because they have been generally more engaged and proactive to concerns earlier than their competitors.

"They generally have been better than many of their competitors at providing more fruit & veg and less sugar and fat as default options for their children's menu, and in offering healthier options more widely. They have a better story to tell than some of their competitors."

KFC decreased the amount it spent on traditional ad channels by 5.2%, bucking the overall trend across retail, which saw spend rise 1.8% among the top 20, and 2.5% overall.