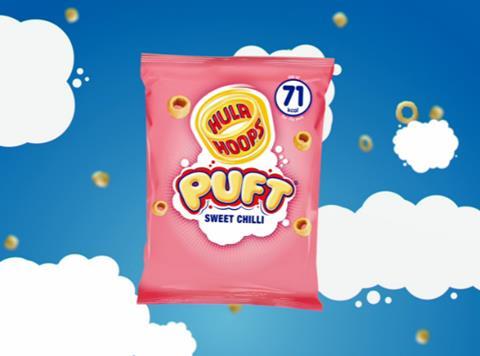 KP Snacks is set to kick off a campaign for Hula Hoops Puft, with activity including an animated TV ad voiced by comedy actor Miranda Hart.
The £1.5m push, 'Mouth Meditation', will launch on 1 January across digital, OOH and in-store. A 20-second television slot will follow on 14 January for four weeks, urging viewers to "try to resist the urge to lick the TV".
Its aim is to highlight Puft's healthier-eating credentials at 72 calories per 15g bag (480kcals per 100g). The snack was "ideal for health-conscious shoppers looking for the perfect guilt-free snack in the new year" said KP, which values Puft at around £8m in sales.
The larger Hula Hoops portfolio was "one of the fastest-growing brands in the UK" according to KP's marketing director, Kevin McNair. "We're delighted to have Miranda Hart on board for this new Puft campaign, which really portrays the playfulness of the brand and allows retailers to capitalise on the growing healthy living trend."
Meanwhile, KP Nuts has launched a festive promotional drive, investing £500k in activity across OOH and digital that draws on the brand's "heritage as a classic Christmas nibble". It comprises three executions: 'No one's driving home for vol-au-vents', 'Wise men don't come bearing bruschetta' and 'Nobody's dreaming of a white couscous' – each juxtaposed with a bowl of KP Nuts and the tagline 'The original finger food'.
It will also include the 'ultimate Christmas jumper' pop-up on Bateman Street, Soho, on Friday (14 December), which will see KP Nuts donate a minimum of £10k to Save the Children as consumers are given the chance to win one of 30 specially designed jumpers adorned with packs of nuts.