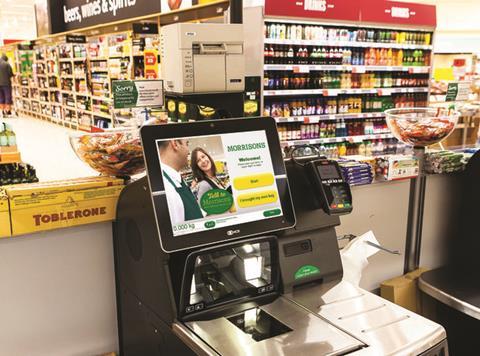 Morrisons is hoping to ease the tension around Christmas shopping by adding what it says is the UK's cheeriest voice to its new self-service checkouts.
The retailer has worked with leading voice experts to find the formula for the voice, dubbed 'Festive Fred', which will be used from the end of November until Christmas.
Morrisons is currently in the process of rolling out new self-service tills across all its stores, due to complete before the end of the month.
Festive Fred is currently being played by voiceover artist Ben Whitehead, whose voice has all the qualities of the 'cheeriest voice' formula when delivering the self-service till prompts. These include wishing shoppers a Merry Christmas and telling them not to "get their tinsel in a tangle" when there is an unexpected item in the bagging area.
It worked with sound engineer Shannon Harris and Lyz Cooper, founder of The British Academy of Sound Therapy, to come up with the voice, which contains qualities of Brian Blessed, Terry Wogan, Miranda Hart and Keith Chegwin.
"With a cheery voice, sound rises in pitch, increasing in variation, intonation and volume or tempo," said Cooper. "The brain responds to this with an increased heart rate and the body releases dopamine, a feelgood chemical associated with pleasure. Listening to a voice that is animated with cheery qualities induces a general uplift in mood and therefore cheers people up."
Morrisons retailer director Gary Mills said: "We know the Christmas shop can be stressful and we want our customers to leave our stores feeling festive. We hope Fred, along with everything else we do, puts a smile on our shoppers' faces."