As Game of Thrones fans prepare themselves for the eighth and final series, food and drink is preparing to cash in on GoT fever and big nights in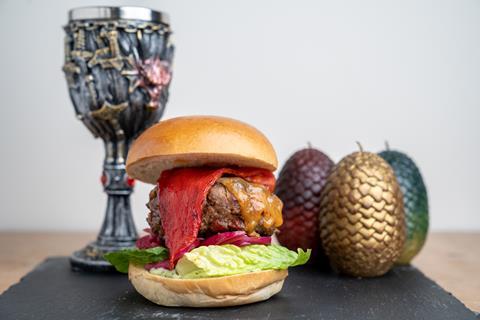 Sainsbury's Dragon Burger recipe
Sainsbury's is encouraging fans to get hands on and create their own themed viewing fare: a Dragon Burger. The retailer has specially commissioned a recipe from chef Ben Mulock, who has created his take on what dragon meat would taste like. "I imagine dragon meat to have a strong flavour so a gamey, venison steak felt like a key ingredient for this," Mulock says. "The chorizo adds a great smoky quality and the harissa gives a fiery kick… which seems important for a creature who breathes fire!"
The dish is completed with a roasted red pepper 'tongue' and spicy Mexicana cheese. The recipe will be available on Sainsbury's website from next week, alongside a step-by-step video.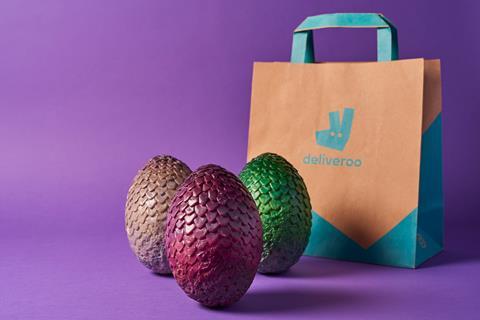 Deliveroo dragon Easter egg
In the kingdom of Westeros, dragon eggs make the perfect lavish wedding gift (until they begin to hatch, that is). Now lovers of the show can have their very own egg – one made of elaborately decorated white chocolate – delivered courtesy of Deliveroo Editions. The delivery app has created pop-up restaurant The Hatchery, which will be selling the eggs in London, Manchester and Leeds from 14 April until Easter Sunday. Weighing 1kg and measuring 20cm in height, the eggs cost just 80p in honour of the eighth series.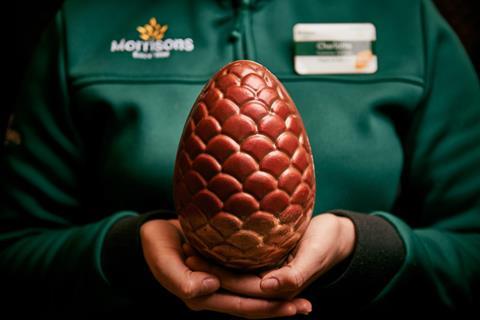 Morrisons dragon Easter egg
Also recreating the iconic eggs in chocolate is Morrisons, which is bringing back its GoT-themed Easter egg as part of The Best range. The 20cm high, 240g Belgian milk chocolate creation is finished with a dusting of red and gold shimmer. Fans can find the eggs at all of the supermarket's 494 stores.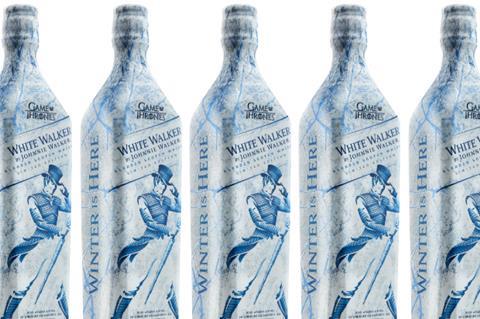 Asda stocks White Walker scotch
In October last year, Diageo teamed up with US broadcaster and home of Game of Thrones, HBO, to launch a special blended scotch. White Walker by Johnnie Walker is named after the show's undead army from the Frozen North, and is intended to be served straight from the freezer. Now as the final series airs, Asda has become the exclusive stockist for the themed tipple. Priced at £25, the bottles will go on sale in selected stores from 25 April until 2 May.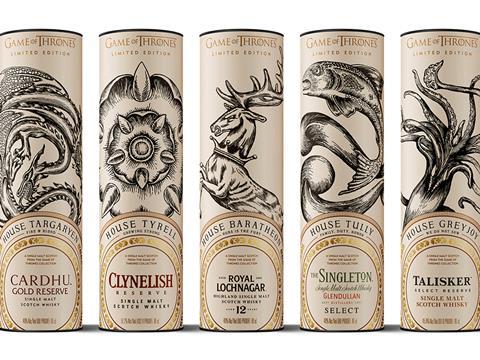 House single malt whiskies
Diageo has also brought its eight-strong range of Game of Thrones-themed single malt whiskies to the UK. Rolled out on 19 February, each bottle contains whisky from a different Diageo distillery, such as Cardhu, Talisker and Dalwhinnie, and carries the name, symbol and motto of one of the warring houses of Westeros. Prices range from £38 to £65.