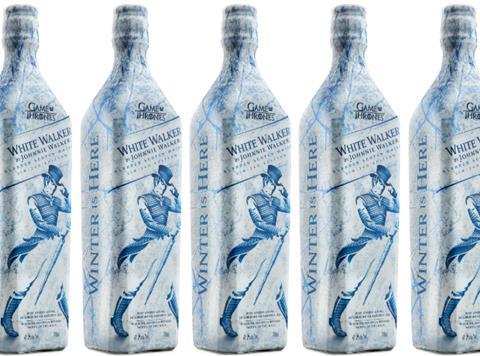 Booze giant Diageo has teamed up with HBO, the US broadcaster, to produce a Game of Thrones-themed blended scotch.
The 41.7% abv White Walker by Johnnie Walker is named after the award-winning TV show's White Walkers, the undead army from the Frozen North. The limited-edition whisky "evokes their icy world" said Diageo.
It is an entirely new Johnnie Walker blend, promising notes of caramelised sugar, vanilla and red berries "with a touch of orchard fruit". Intended to be served "directly from the freezer", it includes single malts from Cardhu and Clynelish, one of Scotland's most northern distilleries.
Whiskies from Clynelish had "endured long Scottish winters not dissimilar to the long periods endured by the Night's Watch" said Johnnie Walker blender George Harper, referring to Game of Thrones' military order that lives in permanently snowy conditions. "So, it was the perfect place to start when creating this unique whisky."
Available exclusively from Amazon, White Walker (rsp: £32/70cl) comes in "icy" white and blue packaging featuring the Johnnie Walker Striding Man character dressed in armour similar to that of the GoT zombie army. Using temperature-sensitive ink, the bottle reveals the message 'Winter is Here' when frozen.
The launch came in response to "a fan appetite for a Game of Thrones whisky" said HBO vice president for licensing & retail Jeff Peters.
"Once we saw the vision from Johnnie Walker for a way to collaborate, we knew the idea was perfect and the time was now. From the beginning, they understood that we wanted to create something special, and they've accomplished that with White Walker by Johnnie Walker."