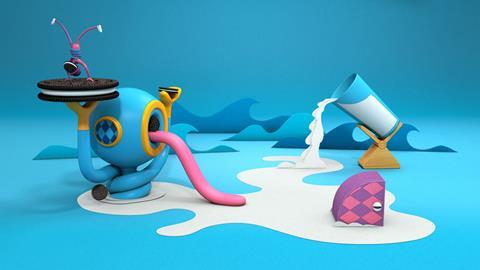 Oreo returns to TV screens today as part of a new £1.5million multi-channel campaign aimed at promoting the "fun side" of the biscuit.
The "Play with Oreo" 20-second pop-art style campaign builds on the brand's established "twist, lick and dunk" catchphrase and features a lively animated cookie.
The commercial, which runs for 13 weeks until 26th April, demonstrates how Oreos can be used to transform everyday routine into imaginative play opportunities and forms part of wider VOD, social media and in-store activity.
"Play has always been an integral part of the Oreo brand philosophy," Jonathan Holden, marketing manager said. "We are now evolving our communications to showcase playfulness in more imaginative and creative ways across multiple channels."
The latest marketing push follows the UK launch of Mondelez's $800m US cookie brand Chips Ahoy! last year, which the company believes will be bigger than Oreo in five years. "The campaign…is another big step in Mondelez's drive to shake up the biscuit category," Holden added. "This is just the start of a pivotal year of growth and innovation for the business."
Oreo is currently worth £29.4m and is growing at +24.6% [The Neilsen Company, MAT to w/e 29.11.14].