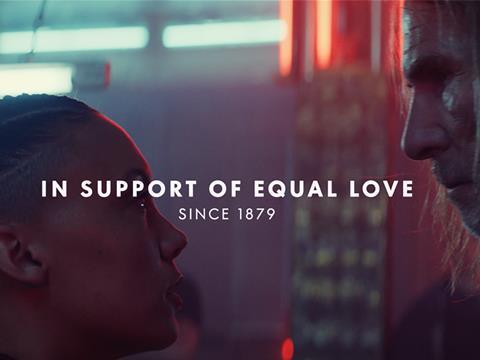 Pernod Ricard pulled a TV advert for its pro-LGBTQ #kisswithpride campaign for Absolut at the last minute, after Clearcast said it breached broadcast standards.

The ad, Equal Love, featured numerous couples of different gender mixes 'passing on' a kiss as part of the spirits giant's backing of the summer's pride festivals. No alcohol consumption was shown.

But Clearcast said it broke the alcohol rules of the UK Code of Broadcast Advertising, contravening section 19.6 that states ads 'should not link alcohol with sexual activity, sexual success or seduction'.

The campaign had not "set out to associate alcohol with promiscuity, or to be gratuitous in any way" said Pernod Ricard UK MD Laurent Pillet. "It set out to raise awareness about a fundamental human rights issue. There are 72 countries where homosexuality is illegal."

Equal Love has since aired on YouTube, racking up more than 2.5 million views since July.

Clearcast was "unable to clear it in its current form", said a spokesman for the TV broadcasting watchdog, but "would be happy to work with Absolut to help them get an ad to air".