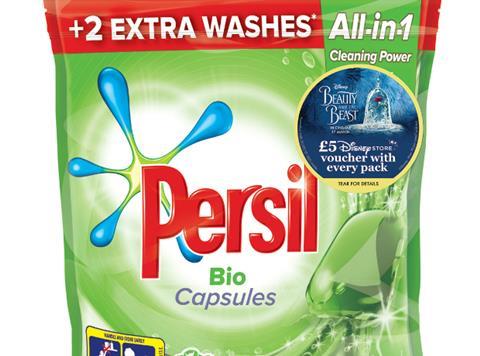 Persil is giving away £5 Disney Store vouchers in a tie-up with the entertainment giant ahead of the UK film release of Beauty and the Beast later this month.
The on-pack promotion, part of a £2m push, will run across the detergent brand's Non Bio, Bio, and Colour 22w and 38w Capsule pouches, from now to mid-April.
Each pack showcases the offer via a flash featuring artwork from the film due to be released on 17 March.
Shoppers have the option to either select either an in-store voucher or an e-code to use at disneystore.co.uk, after first entering their unique online code on Persil's website, the brand said.
"At Disney we're always looking to team up with like-minded brands to tell our great stories through exciting and innovative campaigns," said Anna Hill, CMO, Disney UK & Ireland. "So, we are very pleased to be working with such a well-loved brand as Persil to bring the fantastic storytelling of Beauty and the Beast to life to one of our key audiences."
Jennifer King, senior brand manager for Persil at Unilever UK, added: "As one of the UK's biggest household brands, we are thrilled to join forces with one of the biggest movies of 2017. With the chance to redeem a £5 Disney voucher with every pack of Persil Capsules, shoppers really can take home the magic of Disney, as well as beautifully transforming their clothes with the cleaning power of Persil Capsules."