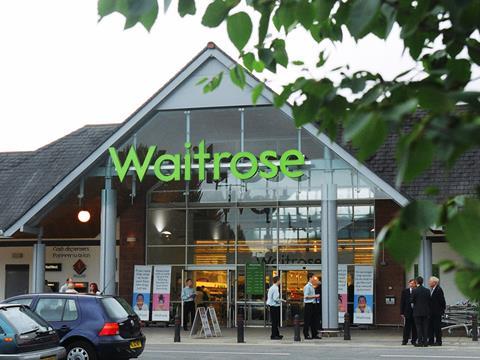 Waitrose has revealed that 700,000 customers have signed up to its Pick Your Own offers scheme since launch, and announced the start of a new phase with 250 new products included.
Describing the promotion as "game changing", the retailer said that customers would have saved more than £8 per basket if they picked the 10 most popular items in the promotion.
The savings for members come on top of the free coffee and newspapers previously introduced under the myWaitrose scheme.
The Grocer first reveal the plans for the launch of the scheme in May and since it went nationwide in June, shoppers have been able to save 20% each time they chose one of ten selected items, on top of any other offers.
The supermarket is now giving customers a chance to change their chosen products for a new phase which will remain in place until 10 November, and from 11 November there will be a further chance in the run up to Christmas.
New products include babycare, free from (including gluten free), health and beauty and additional grocery items.
"We know our customers like straightforward offers they can trust and that are relevant to them and their incredibly positive response to Pick Your Own Offers demonstrates exactly that," said Waitrose marketing director, Rupert Thomas.
"The idea of saving regularly really appeals to shoppers, with many selecting items that they usually buy to generate on-going savings. In combination with Brand Price Match and our other promotions, 'Pick Your Own Offers' shows that we offer exceptional value for great quality products."
| TOP TEN PICKS SINCE LAUNCH (June 2015) | Price | With Pick Your Own Offers |
| --- | --- | --- |
| Essential Waitrose bathroom tissue, white | £3.50 | £2.80 |
| Waitrose Blacktail free range eggs , large | £1.99 | £1.59 |
| Waitrose cherry vine tomatoes | £2.20 | £1.76 |
| Essential Waitrose British chicken breast fillets | £7.19 | £5.75 |
| Waitrose Scottish Salmon fillets | £6.99 | £5.59 |
| Lurpak spreadable slightly salted | £3.25 | £2.60 |
| Essential Waitrose British small whole chicken | £4.39 | £3.51 |
| Waitrose Hereford Beef Mince Lean 10% fat | £4.29 | £3.43 |
| Essential Waitrose mini chicken breast fillets | £4.29 | £3.43 |
| Waitrose Blacktail free range eggs | £2.05 | £1.64 |
| | £40.14 | £32.11 |