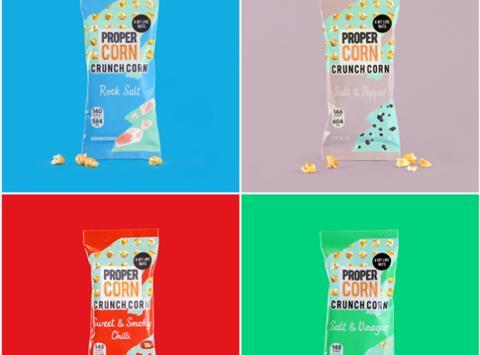 Propercorn has axed its Corn Crunch range less than a year after its launch.
The four-strong 'half-popped' popcorn rolled out in September 2016, but was delisted last month due to the prohibitive costs of marketing a "totally unique" product, according to the brand's head of communications, Rebecca Musgrave.
"Real innovation often requires significant up-front investment in communicating the concept to the consumer," she said. "Multinationals are able to obtain this overnight, but for younger, emerging brands like ourselves, the resource isn't readily available, making it far more challenging to deliver NPD."
While Propercorn was "not afraid of trying new ideas", it required "a certain amount of caution when creating and communicating new products" Musgrave added. "We firmly believe that our learnings from Crunch Corn will lead to even better innovation moving forward."
Commodities prices had not been a contributing factor in Crunch Corn's demise, but financial pressure on Propercorn was a whole was "being felt from the exchange rate on the euro".
In March, Propercorn assured customers it had fully resolved a technical issue at its third-party manufacturer that caused some packs of its Lightly Sea Salted popcorn to contain significantly more fat than declared on the label.
Last month, the brand unveiled its first range aimed at children.