Retailers and brands are reacting to the now 'mainstream device'
The air fryer was a viral hit of the pandemic, but the appliance has proven to be more than a passing fad. John Lewis' latest consumer report, published this week, notes the nation has "gained a burgeoning obsession with air fryers", and sales at the retailer are now in their "third year of unbroken growth".
The proportion of Brits owning one has been put at 30% [Leatherhead Food Research] to 46% [Iceland customer survey].
Retailers and brands are beginning to respond. Tesco this week announced it was adding air fryer cooking instructions to a handful of own label products – with "a major rollout over coming months".
As air fryer cookbook author and TikTok star Clare Andrews puts it: "Supermarkets and brands get that it's not just a fad. The air fryer is here to stay."
So how are retailers and brands adapting? The trend is already impacting NPD. Albert Bartlett launched its first Air Fryer Fries last year. In August, oil and fat producer AAK's consumer brand Sizzola launched its Air Fryer Spray Oil, now listed in Sainsbury's.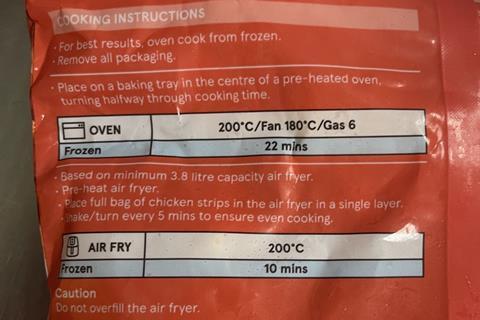 It has been "developed specifically for use with air fryers" says AAK brand manager Claire Douthwaite. "Sizzola does not contain lecithin, unlike other spray oils, which can affect the non-stick capabilities of the air fryer drawer," she explains.
Nestlé earlier this year launched an Air Fryer Seasoned Coating in New Zealand to add to foods before they are fried.
"This is just the start of air fryer oils becoming an everyday purchase," says Douthwaite. "There are many more flavours to explore and the imagination of the user is endless."
Of course, most foodstuffs can be air fried. But reactive brands are now working to help consumers best prepare products, given half of UK air fryer owners say they struggle to know how long to cook food in it, according to a survey by Leatherhead.
"There's a clear need for on-pack instructions, especially as people are becoming more ambitious with what they cook," says Natasha Burton, head of cooking instructions at Leatherhead, which validates instructions for brands. "The main concern is food safety, but this is closely followed by sensory properties."
Providing instructions can win customer appreciation.
"Lots of customers are already using air fryers, so we believe it is better to take the guesswork out of it," says Christa Bloom-Burrows, brand director of Biff's, which added air frying instructions to its plant-based range a year ago.
Breige Donaghy, Tesco's director of product innovation, says specific instructions help shoppers "get the best results" and "enjoy experimenting".
Being outwardly air fryer-friendly can also aid customer acquisition. A survey by Iceland – which launched a short-lived, dedicated air fryer aisle in June – found shoppers selected items specifically because they could be air fried.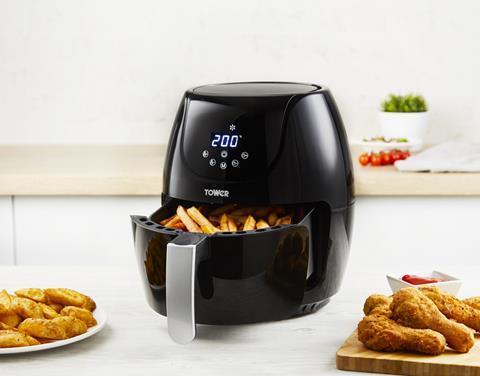 Air fryer NPD
At present, additional instructions and 'perfect for the air fryer' callouts on packaging are being applied to existing products.
"However, there's an opportunity to develop or reimagine products for air fryer compatibility," says Burton. "We're anticipating a wave of air fryer-driven food innovation in the months and years ahead. The air fryer is here to stay."
Biff's is also "certainly continuing to develop NPD with air fryers in mind" says Bloom-Burrows.
An increase in on-pack information could also create a virtuous circle of air fryer use, given 64% of owners surveyed by Leatherhead would cook with them more often if products came with instructions.
The air fryer phenomenon can be ignored no longer. As Burton adds: "They have become a mainstream domestic device."