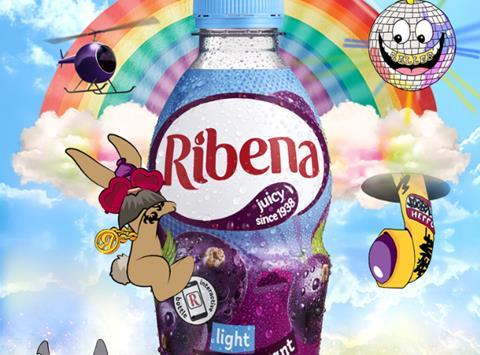 Ribena has launched augmented reality app Doodle Your World as part of a £4m summer campaign.
The free app – available from the Apple and Android stores – allows users to add colourful animated characters to real-time videos and photos, and then share the content over social media. Extra characters are unlocked by saving or sharing content at least once a day – or by scanning a promotional Ribena pack.
Doodle Your World is part of Ribena's new push Doodle Your World – Make It More #Ribenary, which will run until August with an updated version of last year's You Can't Get Any More Ribenary TV commercial.
Next month will see national outdoor activity together with the soft drink brand's largest UK sampling activity to date. The drive comes after Ribena launched a "vibrant" new look in the spring for its 500ml bottle format.
"Now is the perfect time to encourage consumers to get creative with us," said Emmeline Purcell, senior brand manager for Ribena at Lucozade Ribena Suntory. "We want to build on the fun and playful qualities of the brand and place our delicious-looking packs at the very heart of the campaign."