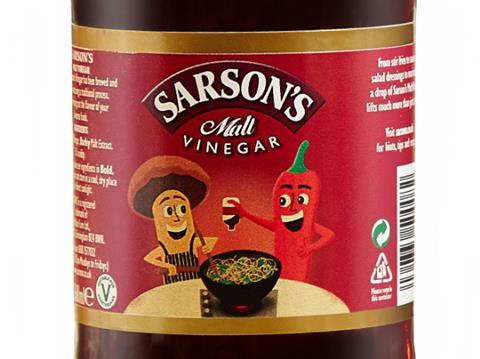 Sarson's is set to launch a campaign to drive consumer awareness of malt vinegar and remind consumers how to use it across cooking, pickling and chips.
Targeting 25 to 45-year-olds from later this month, the first activity is 'Sarson's Loves Cooking', which focuses on how vinegar can be used in a variety of recipes.
The brand is collaborating with food blogger Food Urchin on a selection of recipes that will be promoted across digital, social media and PR. In addition, a 'buy now' button will be introduced across all Sarson's social media platforms.
To accompany the campaign, Sarson's will launch a new 568ml bottle featuring new cartoon characters – a chilli and a mushroom – created by artist Paul Thurlby and available from mid-July.
Experimentation with malt vinegar is becoming popular in home cooking, claimed brand manager Noa Hasegawa.
"Our aim is to educate and inspire consumers on how they can bring out the flavour of their favourite foods using the product," he said. "Sarson's can offer a delicious flavour for a hollandaise sauce or a stew, for example."