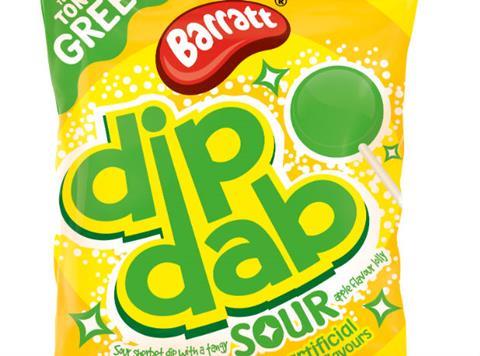 Tangerine Confectionery is bringing a host of classic sweets back to the Barratt stable, five years after dropping the brand name in favour of Candyland.
Dip Dab, Refreshers, Sherbet Fountain, Black Jack and Fruit Salad are among the venerable treats to once again bear the Barratt name – as the British brand celebrates its 170th birthday. Tangerine aims to tap the appeal to consumers of 'retro' brands, as well as the trend of 'kidulting' – adults treating themselves to child-like moments.
While the Barratt name has never gone out of use, many of its best-known lines were rebranded in 2013 as Candyland, five years after Tangerine bought Barratt. That move was designed to bring "strong products" from across its confectionery portfolio "under one umbrella" said Tangerine's marketing & category management director, Russell Tanner.
Rolling out now, the newly revived Barratt lineup – identifiable from the new black shadow on its longstanding logo – has been expanded with the addition of a Dip Dab Sour with an apple lolly. The NPD will be followed in June by a gelatin-free Dip Dab variant in the Softies range. Dip Dab was Tangerine's top-selling SKU and "arguably our most iconic" Tanner said.
A new TV advert for Softies will make its debut tomorrow (1 February), featuring the Refreshers and Fruit Salad variants, while the Barratt portfolio – made across Tangerine's five UK sites – will get its own ad from 8 March as part of a £1.5m spend.
The Candyland name will continue to appear on other Tangerine sweets.