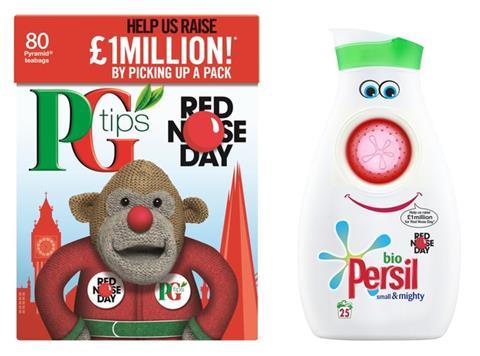 PG tips and Persil are gearing up to roll out a range of limited edition packs in a bid to raise £1m for Comic Relief.
As part of a tie-in with the British charity extravaganza, special boxes of PG Tips are to feature the brand's monkey wearing the charity's famous red nose against the back drop of the London skyline. Meanwhile, Persil's Small & Mighty detergent will display a red stain eraser ball, simulating the iconic red nose. Unilever will donate 8p from every promotional product produced before March 2015 in support of the bi-annual event, which this year takes place on March 13.
Both products will carry the strapline 'Help us raise £1 million for Red Nose Day'.
"As one of the UK's leading fmcg suppliers, we're delighted to be launching a range of limited edition packs this year across both the tea and laundry categories," Kate Hearn, brand manager for PG tips at Unilever UK said. "We're confident the packs will not only help raise much needed funds for Comic Relief, but also help drive retailer sales through increased consumer engagement."
PG Tips limited edition packs will be available in boxes of 80, 160 and 240 starting at £2.51, while the special charity Persil Bio and Colour liquids will apply to 15, 25, 40 and 60 wash sizes beginning at £4.69.