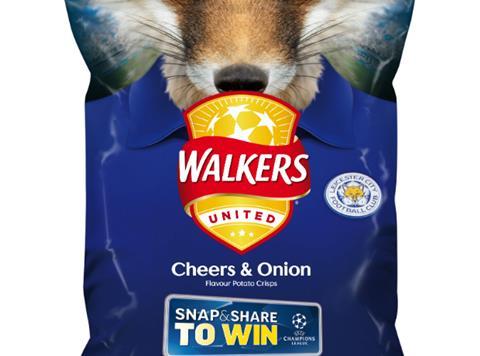 Walkers is once again cheering on its local football team with the launch of a special edition pack.
The Leicester snacks giant has unveiled Cheers & Onion, a 50g bag prominently featuring Leicester City FC's fox mascot, which will be handed to fans tonight (14 March) as they arrive at the King Power Stadium for the second-leg knockout match of the UEFA Champions League against Sevilla.
Supporters will have the chance to win a signed LCFC shirt by taking a picture of themselves holding the bag against their faces to 'combine' human with fox. They can then upload the image to social media, using the #Fearless and #Walkers hashtags, no later than tomorrow.
The promotion is an extension of the current Snap & Share push across the UK, which is offering snackers the chance to win Champions League-related prizes, as part of Walkers' partnership with the tournament.
The special Cheers & Onion crisps follows last year's blue and gold Salt & Victory flavour to mark Leicester City's Premier League triumph – tens of thousands of which were given away to locals, with more going on sale across Leicester in response to demand.
"Something tangible really goes a long way with fans," said John Savage, brand manager for Walkers. "I hope we'll see lots of Leicester fans sharing selfies across Facebook, Twitter and Instagram with our special packs – and having a tonne of fun doing so."