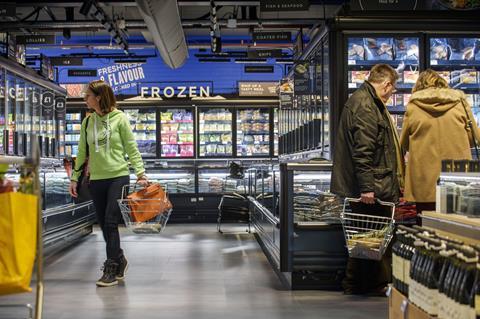 M&S has introduced brands like Tilda and Rummo to boost availability

Brands will appear in several categories including milk, cheese, bread and eggs

M&S has also announced immediate payments for small suppliers
M&S has introduced more branded lines to its food ranges to boost availability during the coronavirus crisis.

The retailer's usual preference for own-label has been relaxed with the temporary addition of branded lines such as Rummo pasta and Tilda rice. The move is intended to "help ensure strong availability on core cupboard staples".

The news is among M&S's latest updates to customers on the special measures it is taking during the lockdown.

They also include focusing on core categories such as milk, cheese, bread, eggs, meat, fish and produce.

The retailer praised suppliers for stepping up to the challenge of extra demand, with one producing 250% more cheddar blocks, slices and grated packs by redeploying staff. Another is producing 200% more packs of minced beef after installing new factory equipment, M&S said.

Like a number of other retailers, M&S has also announced immediate payment terms for small suppliers. "We've identified smaller businesses who will benefit most from the scheme, so that they can request early payments from our banking partners, as and when they need it," the update said.

M&S Food MD Stuart Machin said: "Like all retailers, we're working to play our part in feeding the nation and ensuring that our customers can continue to buy the products they need for their families. We'd like to thank every one of our incredible suppliers - from our farmers, growers and manufacturers to our packers, processors and logistics providers - for working tirelessly to support us all during these unprecedented times."

Earlier this week, M&S launched food boxes for delivery, marking an early entry into online grocery before its range arrives on Ocado's website in September.

The boxes include cupboard essentials such as pasta and rice along with treats like Percy Pig sweets. The price is £35 - or £30 for a vegetarian option - and they can be ordered for contact-free scheduled delivery at marksandspencer.com/l/gifts/food-boxes.

Priority access to the boxes is being given to over-70s, identified through M&S's Sparks loyalty scheme, and there is a limit of one box per shopper.