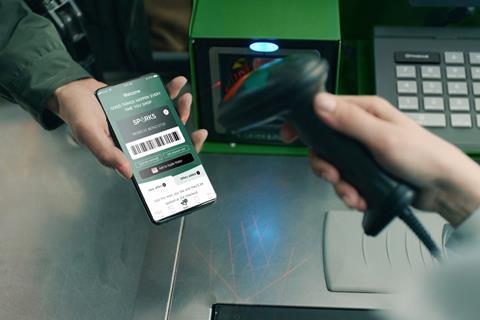 M&S is set to relaunch its Sparks loyalty card as a digital-first scheme to offer a more personalised experience for members.
The retailer has spent the past nine months redesigning the flagging scheme, taking direct feedback from 250,000 of its seven million loyalty members, with 40,000 M&S staff road testing the new offer across the UK.
The renewed Sparks loyalty programme – available via an updated M&S app – will offer instant rewards, a wider selection of charities to support and more tailored personal offers when it launches on 9 July.
Sparks first launched in 2015 but has struggled to make an impact in recent years, with members finding the offer confusing and too heavily reliant on discounting and points-based promotions. M&S boss Steve Rowe also admitted it needed "substantial improvement".
The digital-first relaunch will do away with points and sale access tiers in favour of instant rewards, such as a weekly guarantee that one customer in every UK store will get their shopping for free, giveaways worth thousands of pounds for shoppers to spend online or in store, and smaller rewards in the form of packs of Percy Pigs or apothecary candles.
M&S has added 25 new charity partners to the scheme for members to choose from, taking the total to 35, including the Black Curriculum, Together for Short Lives, Mind and PDSA. Since 2015, M&S has donated 1p from Sparks purchases to charity, raising almost £7m.
The new scheme will also offer greater personalisation and offers based on customers' M&S favourites, with the app designed to get better at tailoring offers the more it is used.
"Sparks is a vital part of how we communicate with over seven million of our most engaged M&S shoppers, and we have designed this relaunch around them," said Jeremy Pee, chief digital & data officer.
"With a digital-first approach, it's simpler and easier to use but also builds our relationship with customers through a more personalised experience. We've injected a new sense of excitement and value and made the features they love even better, while stripping out the points and tiers system they found confusing.
"It will instantly feel more rewarding, and customers can be confident that good things will happen every time they shop with us, from winning their M&S shopping basket for free on the spot, to a donation to the causes that matter most to them."
The new scheme will be hosted through an updated M&S app, with all features of the relaunch fully integrated online.
New members can download the Sparks card via the app straight to their phone or stored to their M&S online account. Physical cards will also continue to be available, but M&S said the "best and most personal experience" of the relaunched Sparks scheme would be available through the app and on M&S.com.
The retailer added there had been a clear acceleration of customers turning to shopping online during the coronavirus pandemic. More than 365,000 existing customers shopped M&S.com for the first time during lockdown, and there have been more than 700,000 new downloads of the app since March.
M&S said the new Sparks scheme was "a critical enabler" to fast-forwarding its growth as a digital and data-driven business.
The business is seeking to unite four data sources from across the business: Sparks, M&S.com, M&S Bank and, from September, Ocado.