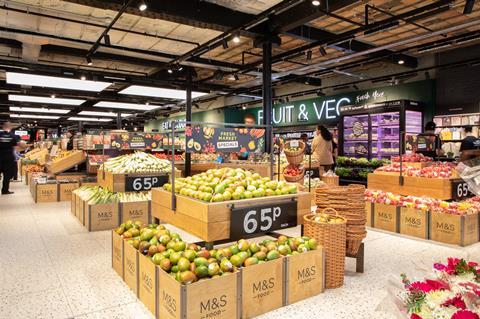 M&S plans to keep around two-thirds of its stores open until midnight during Christmas week to help manage the festive rush.
Around 400 of its branches will remain open until midnight this year, compared to 14 in 2019.
The upmarket retailer will have its longest festive opening hours to date between 21 and 23 December to manage customer flow and ensure social distancing can be maintained. It said the three-day period are its busiest days in the run up to Christmas.
Its stores in high street locations and shopping centres, however, will generally close at 10pm.
M&S is also among the retailers continuing to lobby for extended Sunday trading hours.
The longer opening times follow several steps the retailer has taken in recent months in light of the Covid-19 outbreak. It introduced a reserved shopping slot scheme called Sparks Book & Shop to all 566 standalone Food Halls and branches containing a Food Hall this month, which 125,000 customers have already made use of, and rolled out a contactless click & collect option to an additional six branches this week. Shoppers can also use M&S's smartphone app to pay for their shopping at all 573 of its UK branches.
"We want our customers to be able to shop with confidence this Christmas, which means supporting social distancing in our stores and minimal queueing outside as the weather gets colder," said Sacha Berendji, retail, operations and property director at M&S. "To help with this, our Sparks Book & Shop service is now live at every store and we'll be operating our longest ever opening hours just before Christmas to help customers purchase everything they need to make the big day special – however they are celebrating – whether it's picking up the turkey or collecting a last-minute present they've ordered online. Along with the wider industry, we continue to ask for Sunday trading hours to be extended to help us increase our capacity to serve everyone safely this festive season."