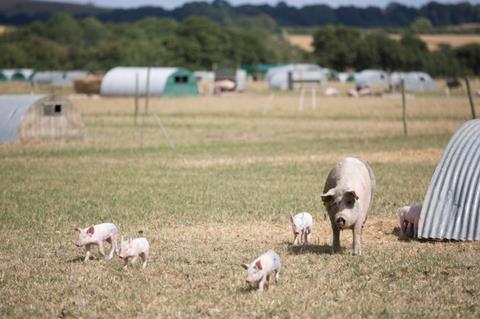 A senior government minister has admitted an outbreak of African swine fever could be imminent.
Responding to a letter from National Pig Association chairman Richard Lister, farming minister George Eustice said: "The UK risk level is currently set at medium, which means an outbreak is expected within a year."
Eustice also reportedly outlined Defra's work with the UK Border Force to improve intelligence sharing, detect and seize illegal imports, and raise awareness among travellers about the risks of bringing in potentially infected animal products.
It has led to calls from the NPA for "a more robust approach" towards ASF prevention from Defra and UK port authorities.
The trade body said it has seen "precious little evidence" of a promised step-up in measures to prevent the disease entering the UK, and complained that border authorities were not taking the risk seriously enough.
At the end of July, Defra launched a poster campaign at UK borders to warn travellers about ASF. But the NPA claims these have not been displayed with "any consistency or prominence" and accused border authorities of showing "little interest" in helping Defra.
"If a government minister really thinks the virus will be here within a year, it is patently obvious that more resource and effort is needed to keep it out. And the Border Force needs to demonstrate that it understands the scale of the threat," said NPA CEO Zoe Davies.
Since the outbreak was first reported in China in August 2018, more than 800,000 pigs and wild boar have died in Europe as a result of ASF, while around six million pigs have been culled in Asia, according to Defra estimates.