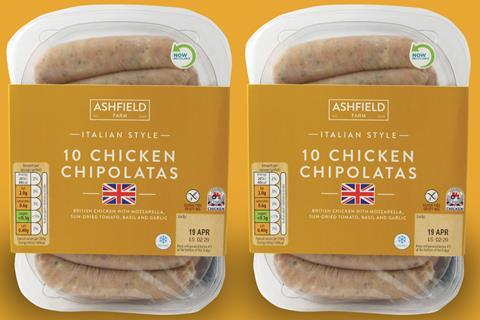 Aldi has bowed to a barrage of bad publicity and pressure from sausage brand Heck by redesigning the packaging on its Italian-style chicken sausages.

The packaging revamp, introduced in the past month, comes after the discounter was accused last July by Heck owner Andrew Keeble of "mimicking" the brand's Chicken Italia sausages, with a "copycat" version sold under the Ashfield Farm brand.

Aldi's sausages had been too similar to Heck's product in terms of packaging colour and colour combinations, in addition to the general look of the product, Keeble claimed. It also used a similar font and took other design cues from the Yorkshire-based sausage brand, he said.

Shoppers had been "duped" into thinking they were buying Heck sausages at Aldi, Keeble told The Grocer at the time, as he accused the retailer of "hijacking" Heck's brand's values and threatened to take it to court.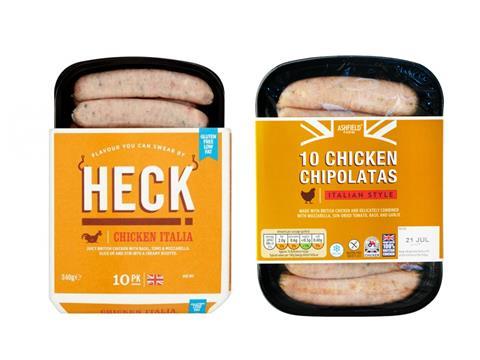 In an interview with The Grocer last summer, Aldi's UK & Ireland CEO Giles Hurley insisted the discounter did not "seek to copy brands", and instead "benchmarked" against leading brands.

But the discounter has since faced a barrage of bad publicity. The Grocer's story was picked up by a number of national media outlets, and Aldi has faced criticism online and on social media from influencers. Shoppers also used social media to decry Aldi's "blatant" and "shameless" copying, with others describing the sausages as a Heck "rip-off", though some Twitter users have been kinder, suggesting its sausages offered better value for money than its branded rival.

Neither Heck nor Aldi would comment on whether the dispute had prompted the packaging redesign, which now uses different fonts and a non-black tray.

An Aldi spokesman said the discounter "regularly updates the look and feel of our product packaging" as part of a wider redesign of the Ashfield Farm meat range.

However, the revamp comes after Heck bolstered its trademark and intellectual property protection, admitted Keeble, who welcomed Aldi's decision. He urged other food companies not to stay silent "and assume the bigger brand can get away with copying you".

He said: "We have worked really hard to make the Heck brand about taste and quality. It's amazing news that Aldi have listened to us and changed the packaging."