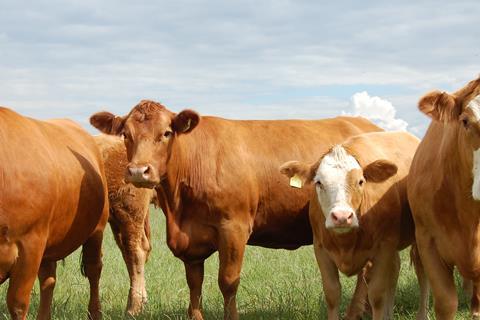 A new partnership of farmers, processors, trade bodies and retailers has been launched in a bid to drive standards and sustainability in the beef supply chain.
The likes of Sains-bury's, M&S, Morrisons, Tesco and McDonald's are among 26 organisations to have signed up to the UK Cattle Sustainability Platform, which will develop workstreams and measure its progress against four target areas: the environment, animal medicines, animal health and welfare, and farm management.
The platform was needed to "unite the activities of the UK cattle sector on its sustainability journey", it said, and would "promote and recognise all aspects of the beef value chain for its delivery of measurable positive impacts and continuous improvements to key sustainability priorities".
The move follows the launch by industry of the British Meat, Origin Matters website in September, designed to instigate cross-industry collaboration and promote the benefits of domestically sourced meat.
The group said the platform was the result of two years of "comprehensive multi-stakeholder consultation", which recognised the need to collaborate, communicate and support sustainable farming practices.
"I'm delighted that all major stakeholders from the UK Beef Industry have come together to collaborate to showcase what we are doing as an industry to promote beef sustainability throughout the supply chain with farmers and customers alike," said UKCSP chair, Sarah Haire.
"This is a significant advance which demonstrates the good work already being done, the commitment to improve and a collective move in support of UK Beef producers."