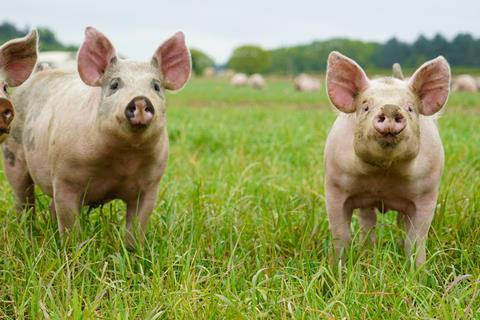 Pork giant Danish Crown has enjoyed its strongest-ever six-month trading period, with net profit up 46% to DKK 1.4 billion (£166.5m), according to half-year results by the farming co-op.
The supplier saw year-on-year sales climb by 18% to DKK 31.8 billion for the six months to the end of March, driven primarily by an increase in global pork prices. Operating profit increased by 43% to DKK 1.75 billion (£207.8m).
The upturn in sales marks a turnaround in Danish Crown's fortunes and follows warnings in 2018 and 2019 that more work was required to arrest a decline in sales across the group. Danish Crown offloaded its loss-making UK business Tulip to Moy Park owner Pilgrim's Pride last October in a £290m deal.
That divestment had contributed to an improvement in its fortunes, said group CEO Jais Valeur. However, the business has retained a significant UK manufacturing footprint across five UK locations and continues to manage the supply of Danish bacon and pigmeat to the UK.
"We've had a very strong first half, building on a combination of continuing strong sales of pork to China, the divestment of Tulip in the UK and overall strong group performance," Valeur added.
"No one can take that away from us, but right now we're dedicating all our resources to steering Danish Crown safely through the coronavirus crisis."
During the six-month period, the co-op's farmer owners received an average settlement price of DKK 13.72 per kg for their pigs, against DKK 9.40 per kg in the same period of last year – a 46% increase.
"Obviously, our improvement is driven by our exports to China, but the platform we've built over the course of the years is starting to prove its worth," Valeur said.
"The breadth of our business and product portfolio is historically strong, and we are more diversified geographically as well as in terms of product categories than previously. This is important as it will ensure attractive settlement prices for our owners going forward."
However, the supplier warned the public lockdowns in most parts of the world in response to the coronavirus crisis would impact on Danish Crown's earnings in the second half of the year – not least due to the loss of sales to restaurants and other foodservice market players, which affected large parts of the food sector and caused market volatility, it said.