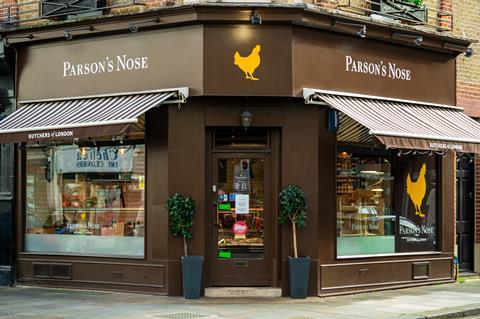 Upmarket London butcher Parson's Nose is planning a national meat delivery service to build on the success of its online shop.
The retailer, which runs shops in Fulham, Putney and South Kensington, currently offers same-day delivery to postcodes in south west and west London after upgrading its online shop last year.
Its creation of an online fulfilment portal with agency Kayo Digital helped push up online sales from just £6,000 in 2019 to £1.6m last year amid a surge in demand for online food delivery from locked down shoppers.
And with the pandemic having transformed shopping behaviour, it's now looking to develop a more ambitious delivery network as a national brand "within the year", said director Tony Hindhaugh, who pointed to growing shopper support for independent businesses.
"Many have now discovered the ease and convenience of ordering online and home delivery having tried it for the first time in 2020," he said.
"This is combined with a renewed interest in cooking and sourcing quality produce. We believe that the popularity of our online store will continue beyond the pandemic so we are continuing to invest and innovate to offer all the flexibility and convenience of a supermarket," he added.
The business was established in 2007 in a bid to "bring back" the traditional butcher's shop, according to Hindhaugh. It also sells meal kits, subscription boxes and other fresh food including fish, cheese and fruit & veg.