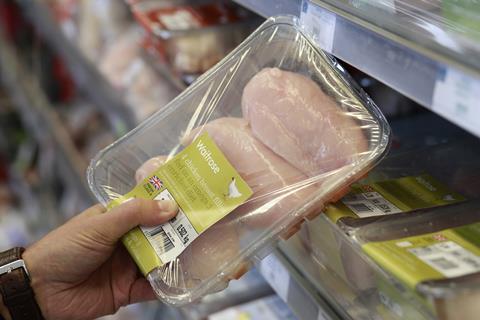 Sales of every meat, fish and poultry category apart from chicken have plunged over the past 12 weeks, new data from Kantar has revealed.
Chicken was the only major protein category to see any growth over the 12 weeks to 12 June, latest data reveals: total meat, fish and poultry sales fell 5.2% year on year, and 11.3% versus two years ago.
Chicken sales stayed in the black, but only grew by 0.6%. Kantar put this down to the rising popularity of fresh processed poultry, which grew at a "healthy" 2.4% as shoppers swapped to cheaper proteins. Total chicken volumes were down 9.7%.
"In previous periods where there has been a squeeze on living standards, there can be shifts in demand for different proteins," said Meat Promotion Wales data analyst Glesni Phillips.
"All proteins are experiencing increases in their average prices, but fish remains the most expensive protein, followed by lamb, and, despite one of the biggest price rises, chicken remains the cheapest protein."
"Product choice is the main way shoppers are choosing to manage inflation now, and so shoppers are switching between cuts in order to save money," Phillips added.
Beef, pork, lamb and fish sales all fell by 7.7%, 5.9%, 14.4% and 8.0% in value respectively. Volume losses (of 13.7%, 10.6%, 23.7% and 11.6% respectively) were steeper thanks to inflation.
Tony Goodger, head of marketing and communications at the Association of Independent Meat Suppliers, suggested red meat could learn from the poultry sector by, "looking at the amount of NPD which chicken has undertaken over the last few years and seeing how their product can follow suit.
"We are also seeing the return of bundle deals with these often structured around recent NPD-led poultry products."
It was difficult to compare the current data with the past two years due to the pandemic influencing shopper habits, argued Rebecca Veale, senior policy advisor at the NPA.
However, the continued fall in consumption was causing "uncertainty in the industry", said BMPA CEO Nick Allen.
It was not an "anti-meat" stance from consumers as other sectors were in a similar situation, he stressed.
"Everyone is just trying to cut down where they can."
However, the situation was being exacerbated by production issues amid the labour crisis and retailers cutting lines. This made it harder for both retailers and producers to inspire consumers and drive sales, he said.
The NPA's Veale added: "Knowing that consumers like to buy British pork, we do not believe that any reduction in consumption should displace British product and call on retail and foodservice to champion British meat and pay a fair price for it.
"Campaigns from AHDB to promote pork as a healthy and nutritious source of protein are fantastic and we support them but in order for British pork to remain on the shelves, a fair price needs to be paid to producers."