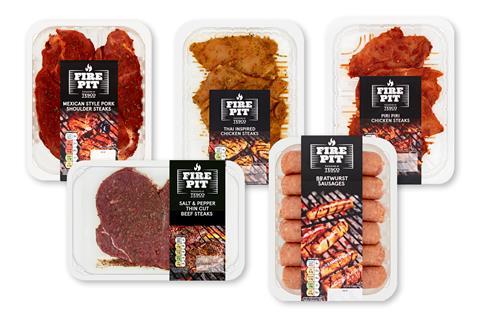 Tesco has launched Fire Pit, a major new range of barbecue-focused marinated fresh meats and sides inspired by the US pitmaster trend.
The range, which was launched in Ireland last May, started rolling out across Tesco's stores in Great Britain ahead of last Friday's bank holiday.
The lineup of eight products includes Fire Pit piri piri chicken steaks (300g), Thai chicken steaks (300g), Mexican-style pork shoulder steaks (400g), Bratwurst sausages with spicy seasoning (480g) and a thin cut beef steak (200g), all priced at £3 each.
Tesco has also launched a Greek-inspired pork kebab SKU under the Fire Pit brand (rsp: £4/400g), BBQ cauliflower wing bites (rsp: £2.25/280g) and Fire Pit patatas bravas (rsp: £2/400g).
The retailer has also expanded its Finest range with two new burgers. Its Proper Burger (rsp: £3/340g) is seasoned with mature cheddar, pickles, onions, gherkins and jalapeños. Meanwhile, its four-pack Finest smoked maple burger (rsp: £3/454g) is made with smoked paprika, smoked salt and sweet maple syrup paste.
"The new range is inspired by US pitmasters who see barbecuing as a craft and are passionate about creating the most distinct flavours, using a variety of marinades and rubs," Tesco said.