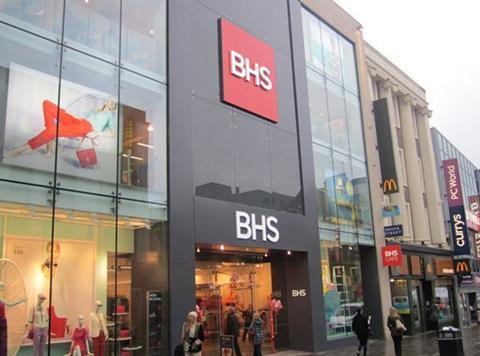 BHS is to shutter its 163 stores at the potential cost of 11,000 jobs after administrators failed to find a buyer for the troubled retail chain.
Administrator Duff & Phelps today announced the "orderly wind down" of the BHS business "despite considerable efforts" to agree a sale of the business.
It said that, although "multiple" offers were received, none were able to complete a deal due to the working capital requirements to secure the future of the company.
Duff & Phelps stated: "As a result of the wind down all 163 stores will be in close down sale mode over the coming weeks and whilst continuing efforts will be made by the administrators to sell stores the jobs of 8000 members of staff are likely to go."
A further 3000 jobs of non-BHS employees who work in stores "may also be at risk".
Philip Duffy, MD of Duff & Phelps and joint administrator said "The British high street is changing and in these turbulent times for retailers, BHS has fallen as another victim of the seismic shifts we are seeing.
"The tireless work and goodwill of the existing management team and employees of BHS with the support of my team were not enough to change the fortunes of the company."
Its failure follows Sir Philip Green's sale of BHS to a consortium led by Dominic Chappell called Retail Acquisitions for £1 last year,
BHS went into administration in late April after last-minute rescue talks proved unsuccessful.
In March, the loss-making retailer won a reprieve after creditors agreed to a rescue package by way of a Company Voluntary Arrangement (CVA) to reduce its rent liability.
BHS began trialling a convenience food offer in its Romford, Staines and Warrington stores in early 2014 and had grown this to just under 30 food stores before its collapse. The chain had secured permission to roll out the food offering to 140 stores across its existing estate.