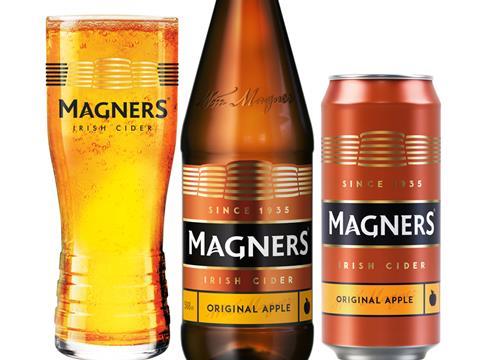 Top story
Magners and Tennent's brewer C&C Group (CCR) has bought a 47% stake in UK pub group Admiral Taverns as part of its acquisition by US investment fund Proprium Capital Partners.
C&C Group together with Proprium and Admiral management have bought the entire share capital of Admiral, which operates 845 pubs mainly in England and Wales.
C&C has invested £37m to take a 47% stake in the business, which will be funded by its existing financing facilities.
C&C said the investment "will deliver significant economic and route-to-market benefit to its GB businesses" giving it direct access to 845 pubs through a procurement and supply agreement.
The deal will "mid-single digit" earnings accreative and will offer a return on equity in the first full financial year following completion.
In Admiral's latest audited accounts for the 52 weeks ended 28 May 2016, the group had underlying EBITDA of £25.2m and an underlying EBITDA margin of 36.2%. Gross assets of the Admiral business were £231.8m and the gross property assets were valued at £244.3m.
The transaction is subject to FCA approval only and is expected to complete by the end of November 2017.
Stephen Glancey, C&C CEO, commented: "The local pub remains at the heart of many suburban and city communities – often the hub of local activity and their economic and social contribution is immeasurable. C&C has a long and successful track-record of supplying and providing financial support to local pubs within the independent free-trade in Scotland and Ireland.
"In the UK, the tenanted pub model is a key component of the pub industry. When well invested, and with the right operator and product range, it can provide excellent sustainable returns to all participants.
"For C&C, this is an attractive opportunity to create a new long term investment in the important on-trade channel, without taking significant financial and operational risk. The investment will provide our brands with improved distribution in some of the best community pubs across the UK, with an opportunity to enhance on-trade penetration further over time."
C&C Group has edged up 0.3% to €3.04 so far this morning - the stock is down 23% year-to-date.
Morning update
Private label household goods manufacturer McBride (MCB) has also been on the acquisition hunt, announcing this morning it has bought Danish dish-wash and laundry products firm Danlind for a cash consideration of £10.8m.
McBride said Danlind provide it with access to accelerated growth in the key strategic category of auto dish-wash tablets, through its "well invested capacity, technology platform and high quality product range".
It said Danlind has a significant range of retail and contract customers along with a well-established position in the Nordic region and in the commercial laundry and dish-wash markets. The deal will enable McBride to gain entry into growth segments where it is currently under represented, while it can also develop Danlind's Ecolabel products through McBride's European reach.
Danlind operates from three manufacturing sites in Denmark, and has approximately 250 employees. For the year ended 31 December 2016, Danlind reported revenues of £58.4m, EBITDA of £1.6m and generated a loss before tax of £1.3m.
The acquisition is expected to be immediately earnings enhancing for the group, with the post-tax return on invested capital is expected to meet cost of capital in the third full year of ownership.
McBride will pay a cash sum of £10.8m and assume £28m of net debt as part of the deal. The acquisition will be funded from McBride's existing banking facilities and is expected to close in early October.
McBride CEO Rik De Vos commented: "With this acquisition, the combined resources and knowledge of the two companies will provide McBride with accelerated growth in several key categories and geographies and enable us to access new customers.
"The excellent operational and cultural fit between both companies gives the Board confidence that the integration of Danlind will be executed efficiently. This is a significant next step in the development of our strategy and will further support McBride's leading position in its chosen markets, whilst providing our customers with an increasingly better proposition."
McBride has eased back 0.4% to 175.75p on the news.
Elsewhere on the markets this morning, the FTSE 100 has started the week back 0.3% to 7,418.4pts following news of the hydrogen bomb test in North Korea over the weekend.
FTSE 100 companies on the slide include Reckitt Benckiser (RB), down 1.2% to 7,311p and Diageo (DGE), down 1% to 2,581.5p.
Other fallers include Hotel Chocolat (HOTC), down 5.6% to 297.3p, Science in Sport (SIS), down 1.7% to 79.3p, Dairy Crest (DCG), down 1.3% to 587p and Devro (DVO), down 1.2% to 228.6p.
The few early risers include John Menzies (MNZS), up 2.6% to 730p, Applegreen (APGN) up 0.9% to 506.8p and Hilton Food Group (HFG), down 0.8% to 780.9p.
This week in the City
Despite the week kicking off with two acquisition announcements, the City is easing itself back into the post-holiday period with a relatively sparse diary this week.
The main point of interest is perhaps the appearance at Southwark crown court later today of former Tesco (TSCO) executives Carl Rogberg, Christopher Bush and John Scouler on fraud charges related to the supermarket's profits overstatement back in 2014.
Also fresh from its acquisition of Danlind this morning – McBride will issue its full-year results on Wednesday.
Greene King (GNK) holds its annual shareholders meeting on Thursday, while in wider retails Halfords Group and Dixons Carphone issue trading updates on Tuesday and Thursday respectively.
Meanwhile, this week in Boston, US, is the Barclays Global Consumer Staples Conference, which will see presentations from many of the biggest names in the fmcg industry.
This week will also see the publication of The Grocer Price Index for August – after inflation surged to a four-year high last month – while the BRC Shop Price Index for August is out tomorrow morning and the UK's balance of trade figures will be published on Friday.