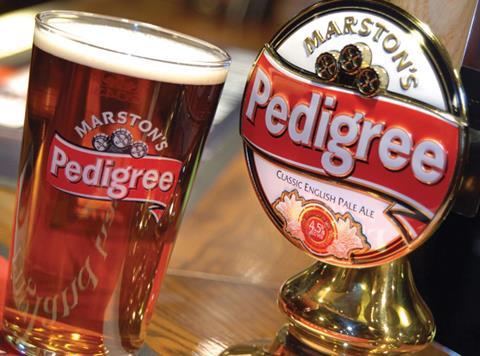 Carlsberg UK and Marston's have announced they have agreed to merge their brewing arms to create a new joint venture in the UK.
The pair will combine their brewing and distribution assets into a newly formed company named Carlsberg Marston's Brewing Company with a combined value of £780m.
Carlsberg will pay up to £273m to listed brewer and pubco Marston's as part of the deal, with £34m of Carlsberg's payment will be a deferred payment contingent on performance.
Carlsberg will become the controlling shareholder, owning 60% of the joint venture, with Marston's owning 40%.
The transaction is anticipated to complete in the second half of this calendar year, subject to approval of Marston's shareholders and the UK's Competition & Markets Authority.
Carlsberg's UK brands include Carlsberg Danish Pilsner, Carlsberg Expørt, Poretti, Tetley's, Somersby cider and the London Fields Brewery craft portfolio, as well as the UK licence for San Miguel, Mahou and the Brooklyn Brewery craft beer portfolio.
Marston's brewing portfolio includes Hobgoblin, Wainwright, Marston's Pedigree and 61 Deep, and the company also owns the Banks's, Jennings, Ringwood and Eagle beer brands. It also has the UK licence for global brands Estrella Damm, Shipyard, Erdinger, Warsteiner and Kirin.
Under the terms of the proposal, the joint venture will have access to the Marston's pub estate for its beer portfolio through a long-term strategic partnership.
Marston's operates around 1,400 pubs and Marston's Beer Company distributes to around 11,000 customers directly, including the independent free trade, other pub companies, the off-trade and export.
"The creation of the joint venture is an important step forward for our UK business," said Carlsberg CEO Cees 't Hart. "The joint venture's brand portfolio will allow us to offer a significantly stronger beer portfolio to our UK customers, and at the same time extend distribution into the Marston's pub estate.
"In addition, the combined business will bring our customers wider choice, greater capacity, product innovation, and marketing and distribution efficiency benefits."
Marston's said the deal will enable it to focus on its "high quality, well-invested pub and accommodation business" while retaining the majority stake in the joint venture.
Marston's CEO Ralph Findlay said: "This new partnership acknowledges Marston's strategy, position and consistent outperformance against the UK beer market, realising value for shareholders today, whilst retaining an interest in the future upside of the combined entity.
"Marston's strong heritage, extensive distribution platform and established reputation for brewing and logistics excellence, together with Carlsberg UK's values, long history in beer, brand portfolio and scale, combine the best attributes of both to create a compelling beer business with an outstanding portfolio of global and local beer brands, proven brewing expertise, strong distribution network and wholesale opportunity."
Marston's shares have jumped 30% since the lunchtime announcement to 42.3p, having plunged from around 130p at the start of January before being hammered due to the coronavirus crisis.