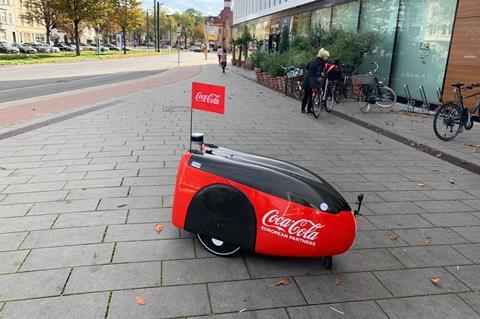 Top story
Coca-Cola European Partners (CCEP) has made its first investments under a new venture arm after taking stakes in two tech-based start-ups.
CCEP has taken a 25% stake in Kol, an on-demand service in Paris that delivers drinks to customers' doors in 30 minutes.
It has also acquired a 15% stake and seat on the board of self-driving technology firm TeleRetail, which uses cutting-edge satellite imagery to deliver products to industrial sites and in urban areas via a robot called Aito.
CCEP Ventures launched in February 2019 and aims to bring new ideas and technologies into CCEP, while leading "industry-shaping projects" designed to "drive change across the FMCG sector."
In return, the start-ups receive industry knowledge from CCEP.
"CCEP Ventures finds, funds, and fosters new ideas that help CCEP adapt to new trends, while supporting some of the best start-ups in the market through our extensive experience and network," Nik Jhangiani, chief financial officer of Coca-Cola European Partners, said.
"As the pace of change in consumer behaviour and technology accelerates, we are constantly looking at ways to evolve our business and deliver a great service to our customers.
"We look forward to sharing our experiences with Kol and TeleRetail and learning from each business's innovation. Through these partnerships we can ensure we are continually adapting our own established model for a digital-first world, and have an innovative new approach to getting our drinks into the hands of our customers faster."
Pierre Nicolet, co-founder of Kol, said the partnership would "enable us to scale more quickly, benefitting from CCEP's industry knowledge and experience through access to its European-wide network. It will also help us meet our international development ambitions, utilising CCEP's commercial expertise."
Torsten Scholl, co-founder of TeleRetail added: "Automating CCEP's logistics tasks offers very interesting challenges. We are therefore excited to accelerate the development of a world-leading outdoor logistics automation company together with CCEP Ventures and to share our innovations, know-how and technologies."
CCEP Ventures claimed it was "actively scouting" for more entrepreneurs and start-ups who were focussed on finding solutions to key industry challenges.
This could be through customer experience, new distribution models, future packaging design or intelligent data and pricing analytics systems.
Meanwhile, the GB, Germany and Iberia Coke bottler has today released a trading update for the third quarter ended 27 September.
CCEP said the "good quarter" was "in line with expectations", with revenues per case up 2% in the period.
Total third quarter revenues were €3.3bn, backed by 3% year-to-date growth in Great Britain driven by the performance of Coca-Cola Zero Sugar, Fanta & Monster
Transactions continued to outpace volume growth in the period.
CEO Damian Gammell said: "We are pleased with our top-line performance in the third-quarter reflecting continued price and mix realisation, solid in-market execution and innovation. We continue to invest today to win tomorrow as we scale up our exciting innovations underpinned by an aligned relationship with The Coca-Cola Company and a strong sustainability agenda.
"Whilst we continue to gain market share across all geographies, we are starting to see early signs of softening market conditions particularly in France and Great Britain, combined with unfavourable weather in October.
"Despite this slower than expected start to the fourth-quarter, we still expect to deliver revenue growth and free cash flow at the top-end of guidance, as well as solid full-year earnings growth, albeit at the low-end of our previously guided range. This, alongside delivering a healthy 17% increase in the annual dividend and the now near completion of our €1.5 billion share buyback programme, collectively demonstrate our focus of driving sustainable value for our shareholders."
Morning update
Matthew Clark owner C&C Group (CCR) has posted a first half rise in net sales and profits despite lapping tough comparisons after the bumper summer of 2018.
Total revenues were up 22.6% to £565.2m in the six months to 31 August, benefiting from better brand and customer mix, cost reduction measures and an additional month.
On a like for like basis, sales were up 4.8% in the period, driven by a 5.5% rise in prices and a 0.7% volume decline.
Operating profit of €11.0m was €4.9m higher than last year. Operating margins were 2.7% at Matthew Clark and -0.8% at Bibendum, with loss-making Bibendum expected to return to break-even in the second half of the year.
C&C Group said it remains confident of achieving an operating margin of 3%-plus across the combined businesses.
On a brand level, it saw a resilient performance from its key Tennent's, Magners and Bulmers products despite the wider combined beer and cider markets in GB falling by 3.5% in the six months to 10 August 2019.
The industry weakness was driven by challenging previous year comparators, with total cider volumes down 9.2%.
However, C&C cider increased share by 0.3pp to 9.4% during the period. In the on-trade, draught Magners distribution grew by 10.2% with volumes up 8.7%.
Tennent's volumes remained resilient against tough comparatives and an extra 2 months of minimum unit pricing in Scotland.
Its super-premium and craft portfolio now constitutes 9.7% of branded net revenue, up from 9.3% the first half of last year.
Its wholesale distribution and WINE arm saw a volume decline of 1.4% following disruption from a new warehouse management system implementation. "Whilst we did not lose customers, the overall yield per customer fell as they sourced some products elsewhere," the group said.
Total revenues from its GB division increased 2.7% in the period with pricing and mix benefits offsetting volume declines.
Ireland net revenues fell 3.1% was mainly driven by channel and brand mix.
CEO Stephen Glancey commented: "Last year was exceptional with a World Cup and a hot summer boosting demand. Despite challenging year-on-year comparatives we have delivered a resilient revenue performance in our core brands.
"Despite the economic uncertainties linked to macro and political issues, current trading is in line with expectations. Accordingly, we remain on track to deliver double digit EPS growth in FY2020 and on our steady state forward earnings targets. We have significant balance sheet strength to support our targeted growth range. C&C is committed to effective capital allocation and progressive capital returns. In the first half of the year, we have invested €3.5m in a range of business return projects."
C&C Group shares are up 1.4% to 367.5p so far this morning.
On the markets this morning, the FTSE 100 is up a further 0.8% to 7,318.1pts.
Early risers include McBride (MCB), up 6.7% to 73.8p, Hilton Food Group (HFG), up 2.5% to 1,064p and Imperial Brands (IMB), up 1.4% to 1,879.8p.
Fallers include Pets at Home (PETS), down 2.4% to 214.2p, Glanbia (GLB), down 1.6% to €10.96 and Britvic (BVIC), down 1.1% to 1,007p.
Yesterday in the City
The FTSE 100 ended the day up 0.7% to 7,260.7pts at a one-month high, despite some weakness in domestic-focussed stocks after the Tuesday night votes in parliament to extend the Brexit process.
FTSE 100 risers included British American Tobacco (BATS), which was up 1.8% to 2,716.5p after receiving FDA approval to advertise Swedish Match snus smokeless tobacco as less harmful than cigarettes.
Just Eat (JE) continued to be buoyed by the bidding war for the company, rising a further 1.9% to 746.2p yesterday, while Reckitt Benckiser (RB) bounced back 1.5% to 5,921p after announcing "disappointing" third quarter results earlier this week.
Other risers included Hotel Chocolat (HOTC), up 4.9% to 438p, McBride (MCB), up 4.2% to 69.1p, Premier Foods (PFD), up 3.6% to 33.2p and Hilton Food Group (HFG), up 2.2% to 1,038p.
Sausage skin maker Devro (DVO) dropped a further 5.6% to 157.6p after Tuesday's interim results disappointed.
Also falling were Pets at Home (PETS), down 3.4% to 219.4p, Marks & Spencer (MKS), down 2.4% to 191p, B&M European Value Retail (BME), down 2.3% to 363p and soft drinks producers AG Barr (BAG) and Britvic (BVIC), down 2.2% to 540p and 1.6% to 1,018p respectively.