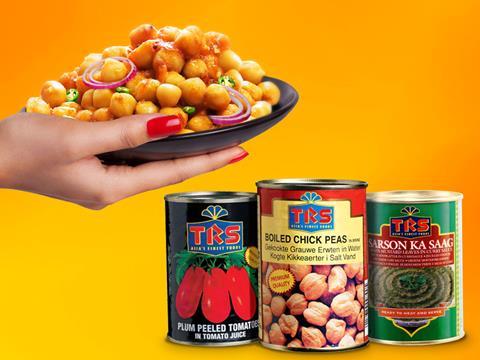 Top story
World foods supplier TRS Group is eyeing up potential buyers after the £109m-turnover business hired advisors to prepare for a sale.
The family owners of the ingredients and cash & carry business are "capitalising" on ­booming interest for Asian foods, according to City sources, as ­consumer interest continues to surge across Europe.
It is understood the Asian food specialist has hired corporate finance firm Stamford Partners to advise on the deal, which could complete early next year.
The wholesale supplier, which also runs two London-based cash & carries, was started in London by Taherally Suterwalla in 1959, and is now led by his five sons.
World foods brands like TRS were attracting interest from private equity and trade alike, another City source said.
The brand, which is run by the five Suterwalla brothers, is also available through the European Union, Russia, Canada and the USA.
The Southall-based supplier saw sales jump 2.2% to £109.3m for the year ended 31 December 2017, while pre-tax profits increased 27% to £8.7m.
Stamford Partners and TRS Group declined to comment.
Check out thegrocer.co.uk/finance for the full story later this morning
Morning update
This week's edition of The Grocer contains analysis of Premier Foods' decision to sell Ambrosia and what its asking price is likely to be, as well as Asda's quarterly results and the latest on the likely sale of Young's to CapVest.
All these stories will be on thegrocer.co.uk/finance later this morning.
Elsewhere, UK-listed tobacco giant Imperial Brands (IMB) has responded to yesterday's move from the US Food and Drug Administration to ban the sale of vaping products in convenience stores and move to ban menthol cigarettes (see this morning's Media Bites).
Imperial says it welcomes "moves to prevent youth access to tobacco and vapour products".
"We share the same concerns and objectives as the FDA: the use by minors of these products is completely unacceptable. Vapour products are for adult smokers and their sale to anyone underage should be prevented.
"However, we also recognise the challenge faced by the FDA in balancing concerns regarding youth appeal and access, given the positive public health potential of vapour products."
It said its own blu product range "offers adult smokers a significantly better alternative than combustible cigarettes" and it uses age verification for all online sales of its vapour products.
"We recognise the FDA's concern over age verification at brick-and-mortar retail outlets and will consider further appropriate actions. The availability of quality vaping products like blu in outlets where tobacco products are sold is vital to help adults transition away from combustible tobacco."
However, it remains more cautious about the FDA's proposals to restrict the sale of menthol cigarettes and flavoured cigars. There proposals "would need to be supported by the relevant science and other evidence" and "are likely to require a multi-year process, in which we will be fully engaged".
Imperial shares are up 0.8% to 2,623p so far this morning as the announcement was widely anticipated and tobacco shares have already been severely hit in recent days.
Also this morning, retail technology firm Eagle Eye has issued a trading update ahead of its AGM alter this morning.
It said its " momentum has continued into the current financial year" with revenues growth of 26% in the first quarter boosted by 36% growth in its AIR platform.
"The growth has been driven by the impact of wins at the end of the last financial year, transaction growth from activity through brands together with continued deepening of existing customer engagements," it said.
Redemption and interaction volumes were 200.5m for the quarter, a 507% increase compared to the same period last year.
It also signed its first quick service restaurant customer after agreeing a three-year contract with Burger King UK "demonstrating the attraction of the platform outside our traditional grocery and food & beverage sectors".
It said revenue and volume growth is expected to continue into the second quarter given the impact of new wins and the strong growth of the issuance network in the first quarter.
"With our recurring revenue remaining high, at 72% of group revenue, very low levels of customer churn and an expanding addressable market opportunity, the board looks to the remainder of the year and beyond with confidence."
The FTSE has kicked off this morning up 0.5% to 7,070.3pts.
Early risers include Coca-Cola HBC (CCH), up 3.1% to 2,428p, McColl's (MCLS) up 2.3% to 132.5p and SSP Group (SSPG), up 1.7% to 710p.
The few fallers so far today include PureCirlce (PURE), down 1.9% to 305.5p, Premier Foods (PFD), down 1.9% to 37.2p and Devro (DVO), down 1.8% to 172p.
Yesterday in the City
The FTSE edged up less than 0.1% to 7,038pts, but that lack of activity hides some volatile movement of individual stocks on a chaotic day for UK PLC.
The trickle of cabinet resignations following the agreement of Theresa May's Brexit plan hit the pound, with sterling dropping by around 1.7% against the dollar and 1.9% against the euro on expectations the deal will be voted down in the House of Commons.
The market punished those stocks with a focus on the UK consumer markets, with supermarkets in the firing line.
Marks & Spencer (MKS) dropped 4.8% back to 289.6p, Tesco (TSCO) fell 4.4% to 289.6p, Ocado (OCDO) fell 3.8% to 764.4p, Sainsbury's was down 3.4% to 306p and Morrisons (MRW) dropped 2.3% to 244.1p.
Other consumer stocks hit included discount retailer B&M European Value Retail (BME), which fell 4.8% to 355.7p, Primark owner Associated British Foods (ABF), down 3.3% to 2446p and WH Smith (SMWH), down 3.1% to 1991p.
However, the plunging pound benefitted a number of FTSE 100 consumer stocks with a more global sales profile.
Unilever (ULVR), rose 2.7% to 4250p given it reports revenues in euros, while Diageo (DGE), rose 2.3% to 2,790p, catering giant Compass Group (CPG), rose 1.9% to 1,606.5p and Coca-Cola HBC (CCH) was up 1.6% to 2,356p.
Other stocks boosted by the falling pound were pork exporter Cranswick (CWK), up 2.1% to 3054p and global sucralose supplier TATE & Lyle (TATE), up 1.8% to 688p.
Devro (DVO) ended the day up 1.3% to 175.2p despite warning weakness in Russia would hit its full year volumes.