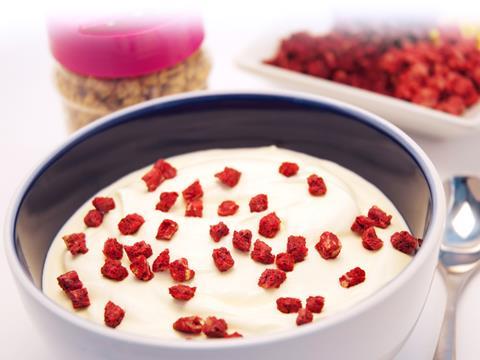 Top story
Chaucer is the latest UK-headquartered food group to be snapped up by a foreign buyer in a deal worth more than $120m (£95.4m), The Grocer can reveal.
The ingredients supplier has been acquired by Japanese freeze-dried food manufacturer Nagatanien after a seven-month long search for expansion capital.
The deal will see Chaucer, which produces freeze-dried fruit & veg for global blue-chip clients such as Kellogg's, Unilever, Nestlé and Starbucks, continue its push into the US, as well as opening up the Japanese market.
Chaucer hired investment firm Piper Jaffray in April to find a new US investor to take over the 60% stake currently held by private equity houses Caird Capital and Endless, and HSBC bank, to help the business to continue its rapid growth in North America.
Read the full exclusive story here.
Morning update
It's a typically quiet Friday morning as the City begins to wind down as we head towards the festive period.
On the markets this morning the FTSE 100 is down another 0.9% to 6,691.4pts on concerns over US jobs numbers later today and worries over the potential effects of a 'no' vote in the constitutional referendum in Italy this Sunday.
Most major grocery stocks are trending down again, but the losses are far lower than yesterday. The biggest FTSE 100 fallers in the sector are Sainsbury's (SBRY) is down 1.2% to 226p and Coca-Cola HBC (CCH) is down 0.9% to 1,618p.
Elsewhere, major fallers include Just Eat (JE), down 3.8% to 565p, Britvic (BVIC), down 2.2% to 529.9p and SSP Group (SSPG), down 1.6% to 363.9p.
Risers so far this morning include McColl's (MCLS), up 4% to 182p, Hotel Chocolat (HOTC), up 2% to 255p and McBride (MCB), up 1.5% to 175.7p.
Yesterday in the City
The FTSE 100 was down 0.5% to 6,752.9pts yesterday, but there were more significant falls amongst major fmcg players as the pound regained strength potentially hitting exports.
After the UK Brexit Secretary David Davis suggested the UK might be prepared pay to retain access to the EU single market the pound rose 1% against both the euro and dollar back to €1.19 and $1.263 respectively.
There were major hits on those with significant sales outside the UK, with Coca-Cola HBC (CCH) down 3.9% to 1,633p, PZ Cussons (PZC) down 3.7% to 297.4p and Unilever (ULVR) down 3.1% to 3,097p.
Also down were Compass Group (CPG), down 3.1% to 1,329p, Imperial Brands (IMB) down 2.6% to 3,345p, Greencore (GNC) down 2.4% to 283.9p, TATE & Lyle (TATE) down 2.4% to 662p and Reckitt Benckiser (RB), 2% down to 6,628p.
One of the biggest market fallers was Britvic (BVIC), which was boosted by strong annual sales figures earlier this week but fell 5.2% back to 542p yesterday.
The supermarkets were also down yesterday, led by Morrisons (MRW), 1.6% down to 214.1p, with Tesco (TSCO) 1.5% down at 205.6p and Sainsbury's 1% down to 228.7p. Ocado dropped 2.2% to 264p.
The day's few risers included Majestic Wine (WINE), up 1.8% to 305.5p, Finsbury Food Group (FIF) up 2.2% to 114p and Stock Spirits Group (STCK) up 2.6% to 171p.