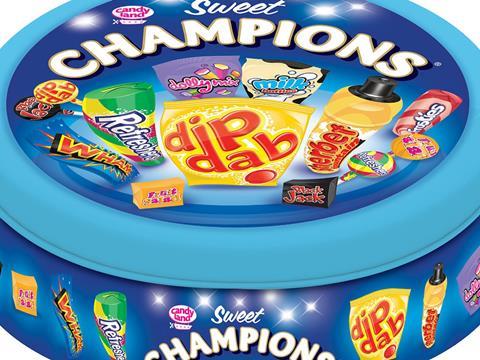 Top story
The UK's Competition and Markets Authority has opened an initial investigation into Valeo Foods' £100m acquisition of Tangerine Confectionery,
The deal, which was confirmed earlier this week, will bring two significant confectionery suppliers together merging the maker Sherbert Fountain and Dib Dabs with Valeo's existing Big Bear business, the maker of Fox's Glaciers, Poppets and XXX mints.
The CMA will investigation whether the deal will create a "substantial lessening of competition" in the sector.
There is currently no date for a deadline for the decision whether to move into a more in-depth 'phase 2' investigation of the deal.
Sources close to the deal told The Grocer last week that Valeo plans to closely integrate the two business under the same management team, with Tangerine having successfully undertaken a turnaround in performance.
The CMA has insisted the two businesses are run separately until it decides on the merger.
Valeo announced the completion of the deal on Tuesday.
Tangerine employs approximately 1,200 people across five sites in the North of England and had previously been owned by PE giant Blackstone, which purchased the company in 2011.
Morning update
UK-listed Ukrainian poultry business MHP has issued its first half results this morning, with poultry volumes up 7% in the six months to 30 June to 307,890 tonnes.
The average chicken meat price increased by 21% year-on-year to UAH 39.17 per kg
Chicken meat exports increased by 9% to 133,564 tonnes as a result of increased exports mainly to the countries in MENA and the EU.
Revenue of US$694m increased by 16% year-on-year, with export revenue of US$385m representing 55% of total sales.
Operating profit decreased by 6% to of US$212m, while adjusted EBITDA margin decreased to 38% from 44% and adjusted EBITDA slightly decreased to US$263m from US$266m.
Net profit fell 10% to US$190m mainly due to reduction in government grants income (US$24m) and one-off transaction costs (US$33m) related to new Eurobond issued in April 2018, partly offset by non-cash foreign exchange translation gain.
On the markets this morning, the FTSE 100 has edged up 0.1% to 7,578.7pts.
Early risers include Associated British Foods (ABF), up 2.1% to 2,388p, FeverTree (FEVR), up 1.6% to 3,407p and Majestic Wine (WINE), up 1.6% to 414.7p.
Fallers so far include PureCircle (PURE), down 2.7% to 346p, Premier Foods (PFD), down 2.5% to 40.6p, Greencore (GNC), down 1.4% to 177.7p and Imperial Brands (IMB), down 1.1% to 2,892p.
Yesterday in the City
The FTSE 100 ended the day up 0.1% to 7,574.2pts.
In a day of little dramatic movement, Sainsbury (SBRY) picked up by 1% to 341.5p despite being the weakest performing of the big four in Tuesday's grocery market share figures.
Online rival Ocado was up 1.9% to 1,110p as it stabilised after recently coming off record share price highs 1,163p.
Other risers included Stock Spirits (STCK), up 3% to 204p, McColl's (MCLS), up 3% to 137.3p, Devro (DVO), up 2.4% to 194.4p and Britvic (BVIC), up 0.8% to 798.5p.
The day's fallers included Cranswick (CWK), down 2.1% to 3,184p, FeverTree (FEVR), down 2% to 3,352p, McBride (MCB), down 1.6% to 131.8p and Science in Sport (SIS), down 1.4% to 70.5p.
Also falling yesterday were SSP Group (SSPG), down 0.9% to 687.5p, British American Tobacco (BATS), down 0.9% to 4,086p and Associated British Foods (ABF), down 0.8% to 2,340p.