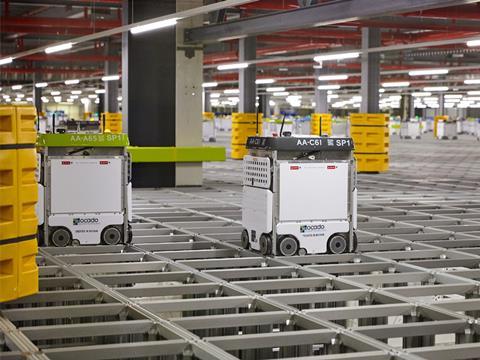 Top story
Ocado has announced a partnership, including a £10m investment, with Oxford based autonomous vehicle software company Oxbotica to develop a range of vehicles.
The two will collaborate on hardware and software interfaces for autonomous vehicles, enhancing and integrating Oxbotica's autonomy software platform into a variety of vehicles.
Ocado said the usage will range from vehicles that operate inside of Ocado's Customer Fulfilment Centre buildings and the yard areas that surround them, all the way to last-mile deliveries and kerb-to-kitchen robots.
The multi-year collaboration has the ultimate ambition of enabling Ocado's partners that use the Ocado Smart Platform to reduce the costs of last-mile delivery and other logistics operations.
Ocado first worked with Oxtbotica in 2017, conducting a two-week trial using an early prototype delivery vehicle doing autonomous deliveries in Greenwich, London.
Since that initial trial, Oxbotica has made "significant progress" in developing its platform, leading to the agreement of a broader relationship that includes both Ocado's financial investment and a commercial collaboration agreement.
Ocado will invest £10m in Oxbotica as part of Oxbotica's latest Series B equity funding round. The round was led by BP Ventures, and included other strategic and financial investors in the US, the UK, China and Australia, such as Tencent, Halma, BGF, HostPlus, IP Group, Venture Science, and funds advised by Doxa Partners.
Ocado will take a seat on Oxbotica's board.
As part of this collaboration, Ocado will outfit a subset of its delivery vans and warehouse vehicles with data capture capabilities, which may include video cameras, LiDAR, RADAR and other sensing devices. Ocado will make this data available to Oxbotica to train and test its technologies, which will then inform Ocado as to what opportunities exist and where best it might take advantage of these new partnerships.
Oxbotica's two core products are Selenium and Caesium. Selenium is an on-vehicle suite of software that brings full autonomy to a vehicle. Caesium is a cloud-based autonomy management system that brings control, audit, data management and monitoring to autonomous fleets.
Ocado will build teams of engineers within its existing Advanced Technology division to work with Oxbotica on these diverse use cases.
Beyond potential cost savings within its core operations, Ocado sees significant opportunities to improve its partners' customer proposition by being better able to respond to peak delivery demands, reducing the cost-to-serve of its immediacy proposition, and accelerating the shift to electrically-powered vehicles.
For both regulatory and complexity reasons, Ocado expects that the development of vehicles that operate in low-speed urban areas or in restricted access areas, such as inside its CFC buildings or within its CFC yards, are likey become a reality sooner than fully-autonomous deliveries to consumers' homes.
However, all aspects of autonomous vehicle development will be within the scope of this collaboration. Ocado expects to see the first prototypes of some early use cases for autonomous vehicles within two years.
Alex Harvey, chief of Advanced Technology at Ocado, commented: "We are excited about the opportunity to work with Oxbotica to develop a wide range of autonomous solutions that truly have the potential to transform both our and our partners' CFC and service delivery operations, while also giving all end customers the widest range of options and flexibility."
Paul Newman, co-founder & CTO of Oxbotica, added: "This is an excellent opportunity for Oxbotica and Ocado to strengthen our partnership, sharing our vision for the future of autonomy. By combining both companies' cutting-edge knowledge and resources, we hope to bring our Universal Autonomy vision to life and continue to solve some of the world's most complex autonomy challenges."
Morning update
This week's edition of The Grocer, read about suggestions buyout funds are circling the UK's undervalued supermarkets, how Gail's Bakery owner Bread Holdings coped with COVID disruption that has delayed its sales process and more.
Go to thegrocer.co.uk/finance later today for full details.
On the markets this morning, the FTSE 100 has opened up 0.4% at 7,014.0 to go past 7,000pts for the first time since February 2020.
Risers included WH Smith, up 4.2% to 1,909.5p, Glanbia, up 1.5% to €12.85 and Pets at Home, up 1.2% to 455.6p.
Fallers so far include Total Produce, down 4.7% to 162p, Science in Sport, down 3.7% to 59.2p and Kerry Group, down 2.1% to 108.1p.
Yesterday in the City
The FTSE 100 closed at another post-coronavirus high yesterday, rising 0.6% to 6,983.5pts, but it was a tougher day for two of the market's most high profile recent additions.
The Hut Group, which has risen strongly since its debut last year, fell back 5.8% to 633p after the release of its annual results.
Meanwhile, Deliveroo fell another 3.8% back to 260p despite posting a record first quarter, amid concerns around the level of slowdown the delivery firm expects for the rest of the year.
The day's other fallers included SSP Group, down 3.5% to 304p, Hotel Chocolat, down 2.4% to 400p, Science in Sport, down 2.4% to 61.5p, Compass Group, down 1.8% to 1,573.5p, Naked Wines, down 1.6% to 792p, Marks & Spencer, down 1.5% to 154.8p and Tesco, down 1.3% to 223.5 following its annual results on Wednesday.
The day's risers included Finsbury Food Group, up 3.8% to 82p, B&M European Value Retail, up 3.3% to 557.8p, DS Smith, up 2.4% to 416p, Diageo, up 2.2% to 3,224.5p, Coca-Cola HBC, up 2.2% to 2,510p, Pets at Home, up 1.7% to 450p and Sainsbury's, up 1.5% to 244.5p.