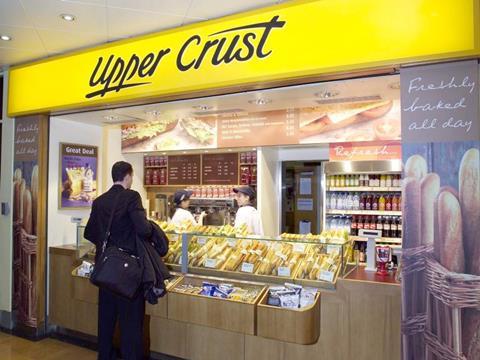 Top story
Travel food specialist SSP Group (SSPG) has had a "robust" start to its financial year and announced the acquisition of German travel catering business Station Food.
The group said group revenue in the first quarter increased by 7.5% on a constant currency basis, comprising like-for-like sales growth of 1.2% and net contract gains of 6.3%.
Total group revenue growth at actual exchange rates was 6.1%.
Organic growth was in line with expectations, with the external headwinds in the second half of last year continuing, into the first quarter of this year.
Like-for-like sales growth in the UK and North America remained robust, driven by increasing passenger numbers. However, like-for-like sales in Continental Europe have been affected by the transport strikes across France during December. Like-for-like sales growth in the Rest of the World included, as expected, a full quarter's impact of the disruption in Hong Kong, but benefitted from an improving trend in India.
Looking forward to the full year, our expectation for like-for-like sales growth for the group remains unchanged, at just below 2%.
Net contract gains remained strong in the first quarter, at 6.3%, driven by the significant new contract openings last year, including: in Continental Europe, at Montparnasse Railway station, the new motorway service stations in Germany and the Starbucks units in railway stations across the Netherlands; in North America, at Seattle, Oakland and LaGuardia Airports; and in the Rest of the World, at Cebu Airport in the Philippines and Bangalore Airport in India.
To further expand its global footprint SSP Group has agreed to buy Station Food from DB Station&Service, a subsidiary of Germany's national railway company Deutsche Bahn.
Under the deal, SSP will take over full operations of Station Food, which will add 28 food and beverage units to SSP's portfolio once they are fully operational by 2021, including food courts at Berlin, Cologne and Karlsruhe Rail Stations, and include international brands such as Burger King, Costa Coffee and Pret, as well as a wide range of local concepts such as currywurst specialists Curry 36 and seafood restaurant GOSCH Sylt.
The move marks the latest acquisition by SSP in Germany and follows on from the Group's successful purchase and integration of travel catering business Stockheim in 2018.
Oliver Doerschuck, CEO of Continental Europe at SSP, said: "This acquisition is a good strategic fit for the SSP DACH business and will strengthen our successful rail business in Germany. We look forward to further expanding our brand portfolio and welcoming new colleagues to the SSP team, and as always, we remain committed to enhancing the overall experience for Deutsche Bahn passengers."
For the rest of the year, SSP said it remains "confident of delivering another year of strong growth, in line with our expectations".
"Whilst a degree of uncertainty always exists around passenger numbers in the short term, we continue to benefit from the structural growth opportunities in our markets and to create further shareholder value."
SSPG shares are up 2.4% so far this morning to 680p.
Morning update
Aldi has announced new pay rates for staff that it claims maintains its position as the UK's highest-paying supermarket.
All staff will earn a minimum hourly rate of £9.40 nationally and £10.90 inside the M25, effective from 1st February. They previously earned a minimum of £9.10 and £10.55 per hour respectively.
The national rate rises to £10.41 per hour for colleagues with three-years' service, while colleagues in London with two years' service will earn £11.15 per hour.
Aldi's new rates exceed the Living Wage Foundation's recommended real living wage rates of £9.30 per hour nationally and £10.75 per hour inside the M25.
The value of this pay increase is boosted, Aldi said, by the fact that the discounter is one of the few supermarkets to still pay colleagues for breaks taken during their shift.
Giles Hurley, Chief Executive Officer for Aldi UK, said: "The dedication and commitment our store colleagues deliver every day when serving our customers underpins our success. We have the most efficient and productive workforce, and this is why they earn the highest rates of pay in the grocery sector."
Aldi, which currently has 874 stores, is recruiting for over 3,800 store-level positions this year and is targeting having 1,200 UK stores by 2025.
Hurley added: "We want to recruit the best people in retail, invest in their training and provide them with the opportunity to develop their careers with Aldi as our business grows."
On the markets this morning, the FTSE 100 has dropped 1% to 7,573.5pts as global stocks have been hit by fears over the spread of a new coronavirus in China.
In the UK, early fallers include PZ Cussons (PZC), down 2.4% to 196.2p, Hotel Chocolat (HOTC), down 1.6% to 487p and Cranswick (CWK), down 1.3% to 3,528p.
Risers so far today include PayPoint, up 1.9% to 1,090p, Premier Foods (PFD), up 1.8% to 38.7p and Carr's Group (CARR), up 1.6% to 156p.
Yesterday in the City
The FTSE 100 started the week back 0.3% to 7,651.4pts yesterday, but the day's big news was a crash in the share price of City darling FeverTree on the back of a profits warning.
The premium mixer drinks brand plunged 27.2% back to 1,453p – their lowest level since March 2017 – after warning its annual performance is due to fall "below expectations" despite guiding for a near 10% sales increase.
Premier Foods (PFD) which announced solid third quarter growth on Friday, dropper 9.6% yesterday back to 38p, while other fallers included Cranswick (CWK), down 3.8% to 3,574p, AG Barr (BAG), down 3.5% to 551p, McColl's (MCLS), down 3.2% to 45.2p and B&M European Value Retail (BME), down 1.8% to 375.7p.
SSP Group was down 2.8% to 664p ahead of this morning's first quarter trading update.
The day's risers included drinks makers Britvic (BVIC), up 2.9% to 900p and Nichols (NICL), up 1.8% to 1,420p, while Kerry Group (KYGA), rose 1.5% to €117.40 and Devro (DVO) rose 0.9% to 173p.