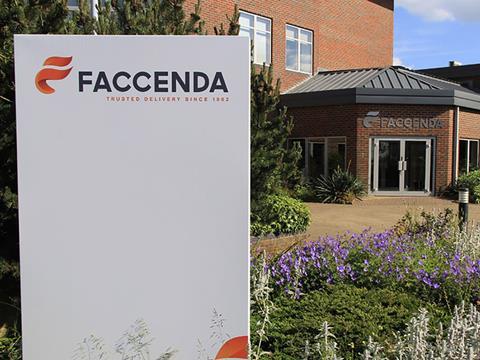 Poultry processor Faccenda Foods is to join forces with the UK poultry arm of US meat giant Cargill to create a new business focusing on fresh chicken, turkey and duck.

The joint venture, which is subject to regulatory approval, would have the capability to "respond to changing customer needs in the retail and foodservice sectors with a strategy for growth", Faccenda said.
It will be a standalone business, with Cargill and Faccenda taking an equal shareholding.

The company will employ 6,000 people across the UK, and have the capacity to process 223 million birds a year.

They brought together "two complementary businesses with a track record of success, shared values and a strong reputation in the UK poultry market", Faccenda added, and would operate across multiple agriculture and operational centres, "with broad capabilities that span the supply chain focused on operational excellence and customer-focused partnerships".

Faccenda MD Andy Dawkins will be appointed CEO of the newly formed company, which will be named once the deal is completed. Chris Hall, fresh chicken director for Cargill Meats Europe, will be appointed chief commercial officer of the joint venture.

The deal would be "good for customers, growers and employees," Dawkins told The Grocer.
Springboard for growth
"We see this as a springboard for growth, and there isn't much crossover in our customer base," he said. "This will give us a platform, both financially and in terms of our supply chain, to generate real value, resilience and efficiency - we are coming together for very positive reasons."

All of Faccenda's food business will be included in the joint venture. However, it will retain a separate shareholding in Dartmouth Foods.

Cargill will keep its cooked poultry processing operation based in Balliol, Wolverhampton separate from the deal, as well as its poultry import, trading and distribution business. It will also continue to operate its European poultry businesses in France, Russia and the Netherlands separately.

"We believe the two organisations are complementary," said Cargill poultry president Chris Langholz. "Combining into one entity allows us to build on our strengths, grow in the market and better serve our customers. The venture will facilitate greater opportunities to innovate and deliver new and exciting poultry products for consumers."

Faccenda Investments CEO Ian Faccenda, said: "Both Cargill and Faccenda are recognised for their high standards and great service. The new joint venture confirms our long-term commitment to being a responsible partner across the entire supply chain, providing stability and security to our customers, suppliers and growers for years to come.

"This is an exciting time. We are bringing together talented people from both businesses with complementary values and expertise, and giving them the opportunity to develop and be successful in a new business with the capability to grow."
The proposed joint venture follows a spate of activity in the meat and poultry sectors over the past year. 2 Sisters owner Ranjit Singh acquired the ailing Bernard Matthews last autumn, while ABP entered into a joint venture with Linden Foods in June; less than a month after red meat giants Dunbia and Dawn Meats confirmed plans to form their own strategic partnership.
Meanwhile, rival poultry processor Moy Park was acquired by US chicken processor Pilgrim's Pride earlier this month in a $1.3bn (£1bn) deal. Nasdaq-listed Pilgrim's is almost 80% owned by Moy Park's former owner JBS.