The Coca-Cola Company is to buy Costa Coffee from Whitbread for $5.1bn (£3.9bn), it was announced on Friday (31 August). So what's in the acquisition of the UK's biggest coffee chain for Coke? Here are five big potential gains.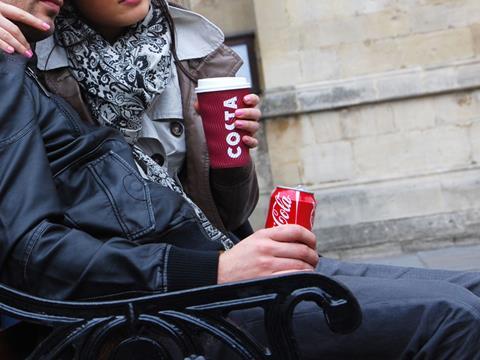 1. Further diversity away from sugary carbonates
Coke's recent launches and acquisitions have been focused on health and functionality as soda drinks, whether sugary or made with sweeteners, lose favour with shoppers.
In February the supplier introduced the UK to low-calorie ice tea brand Fuze Tea, along with Honest Coffee, an extension of the Honest Tea range, and AdeZ, a range of dairy alternative smoothies. Earlier this month, Coke took a minority stake in BodyArmor, a sports drink brand.
The latest acquisition is a continuation of the diversity push.
"This is a big deal for Coca-Cola and a strategic play to further expand beyond soft drinks and move into the hot drinks sector," says Fraser McKevitt, head of retail and consumer insight at Kantar Worldpanel.
Felicia Rosenzweig, partner at brand & marketing consultancy Prophet, says: "Coca-Cola has come in with a standout offer, which represents a significant move for the firm, adding hot beverages for the first time and providing a boost to its investor base."
The growth in coffee and hot beverages also means "it's more important than ever that Coca-Cola make a serious and significant investment in the category", says Coca-Cola president and CEO James Quincey, "because it's the right thing to do to serve our consumers with more of the drinks they want, which in turn helps our customers".
2. Stake in a fast-growing market
Mintel data shows coffee shop sales continue to increase in the UK. Estimated at £3,378m in 2017, they are expected to grow 1.5% in 2018 to reach £3,427m.
While different in nature, the Coke-Costa deal closely follows the $7.1bn (£5.5bn) tie-up, completed this week, that sees Nestlé acquire the perpetual global licence to produce Starbucks branded products across the world.
Today's deal will "allow Coca-Cola to step up its efforts in the coffee segment to challenge Nestlé" says Mintel foodservice analyst Trish Caddy.
James Quincey sees coffee as "one of the fastest-growing beverage categories in the world".
"It's also a category with many different elements, from vending to coffee shops to roast-and-ground to instant to pods and capsules.
"In short, coffee is a big business with many formats. It's also a remarkably fragmented business. No single company in the world has a strong foothold across all parts of coffee, and that includes Coca-Cola."
3. Global reach
Coke's ready-to-drink coffee brands include Honest Coffee, Chaywa on-the-go coffee in South Africa and Georgia cold brew in Japanese retail. And then there was 2014's disastrous $2bn (£1.5bn) investment in coffee machine maker Keurig.
However, the soft drinks giant" doesn't have a broad, global portfolio in this growing category" says Quincey. Costa is "the best way" for the soft drinks giant "to add a global coffee platform that will complement our existing system".
The deal will benefit Costa, too, says Rosenzweig. The coffee shop chain "is determined to realise its strong potential overseas. The combination of an international super-brand and the UK's biggest coffee chain will ensure continued product development, greater market share and potentially enormous and rapid growth expansion overseas."
The sale to Coke "offers intriguing possibilities for the Costa name to appear in new formats, such as chilled variants, and reach a wider audience through Coca-Cola's well-established distribution network" according to Kantar's McKevitt.
While Costa is "ubiquitous in the UK, the business has "plenty of opportunity to expand internationally, as Whitbread had been doing" says Patrick Mitchell-Fox, senior business analyst at IGD. "With operations in many markets, Coke would be well placed to facilitate international expansion further and take it to the next level."
He adds: "We see this as a diversification rather than a synergy-led play by Coke, so we would expect the focus to be on internationalising the Costa operation rather than using the Costa brand to expand its drinks portfolio."
4. Direct route to the high street
McKevitt notes that Coke "doesn't currently have any coffee outlets in its arsenal and this is an opportunity for the business to plug that gap and tap into this growing market. The out-of-home coffee market is not one to be underestimated. Worth £6.3bn a year in Great Britain and growing by 4.3%, our nation's taste for coffee doesn't look set to turn any time soon."
In an increasingly competitive marketplace, the acquisition of Costa would extend Coke's presence in the coffee and restaurant space, says Trish Caddy. "For Costa, the deal will accelerate its position in ready-to-drink beverages through Coca-Cola's distribution channels."
Richard Horwell, MD of Brand Relations, predicts this could cause friction with Starbucks, which currently has a "strong relationship" with Coke. "Starbucks must be furious as there is no doubt that Coke will launch Costa Coffee brands to compete on the retail shelves, because Starbucks dominates that grab-and-go coffee market."
However, not all potential rivals will be perturbed, believes Stanislas Duquesnoy, vice president – senior credit officer at Moody's. In particular, that means JAB Holdings, owner of Krispy Kreme and Pret a Manger. "Coca-Cola's acquisition of Costa Coffee will heat up competition in the ready-to-drink coffee market, but JAB already has a strong footprint in retail coffee and remains a clear market leader by some margin."
5. Cost savings
Costa has not come cheap. Analysts at UBS had previously valued Costa at around £2.7bn. The £3.9bn price tag values Costa at 16.4 times the business's 2018 full-year EBITDA, significantly more than Starbucks, which trades at an enterprise value of around 13 times EBITDA.
"We think the achieved multiple will be materially beyond the market's expectations," UBS concludes.
However, Coca-Cola will be hoping to begin clawing back some of that hefty price quickly through cost-saving opportunities. Coca-Cola highlighted the addition of Costa will bring with it "strong expertise across the coffee supply chain, including sourcing, vending and distribution".
But Mintel's Caddy notes joining forces should enable Costa "to generate cost savings that it would not have achieved on its own". Access to Coca-Cola's vast global distribution, sourcing and logistics network should generate significant synergies to boost Costa's profitability. "For example, centralising ingredient purchasing and production could result in efficiency savings," Caddy says.